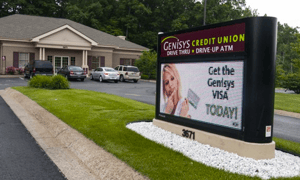 When it comes time for your sign company to partner with a sign manufacturer, you'll want to be prepared with helpful questions that will determine which sign manufacturer is best fit for your sign company's needs. That's why our sales team has put together the top 10 questions to ask sign manufactuers as a sign company.
1. What is the Cabinet Design for the LED Sign?
The first question you'll want to ask when evanluating sign manufacturers relates to cabinet design. Get a solid understanding on the engineering of the actual cabinet for the sign. Ask the sign manufacturer about materials used and if aluminum extrusion is used, or if it's more of a module design.
2. What is the Matrix of the LED Sign?
The matrix of an LED display is a way to determine the actual size of the display area of a message center. It also helps to compare apples to apples if you find yourself competing with another sign company using a different manufacturer. This is a key question to ask sign manufacturers earlier in the process than later.
3. What Resolutions Available for the LED Signs?
Ask the sign manufacturer about the choices of resolutions they provide. Resolutions will be determined on the specific application of your end customer. Examples of typical LED sign resolutions include 20mm, 16mm and 10mm.
4. How is Venting Set Up Around the LED Sign?
Proper venting is critical to the effectiveness and longevity of LED signs. Heat is an enemy of LED signs, making proper venting necessary to keep the display from over-heating. Ask sign manufactuers what measures they have taken with their signs to ensure the right temperatures are maintained and ask for referrals to verify their claims.
5. What Is the Installation Process of LED Signs?
It is key to ask the manufacturer some installation tips. Each manufacturer has a different style of cabinet. Rely on them to help with a few suggestions.
What Kind of Customer Service and Support is Available?
Technical support is a big proponent and sales tool for LED signs. Make sure the manufacturer has a strong support team in place. Key components include having LED sign parts on hand, being knowledgeable in technical support, and offering great customer service to help with questions and quoting opportunities.
How Does LED Sign Software Work?
Make sure the manufacturer understands their software. How does it work? Is the LED sign software user-friendly? What operating systems is it best compatible—Microsoft, Mac? Some LED Sign manufacturers will offer software training to your customers. Be sure to evalute these components carefully when deciding on an LED sign manufacturer to work with.
What are Their LED Sign Warranties?
Make sure you ask the sign manufacturer about their LED sign warranties. These projects are typically expensive and you want to make sure the manufacturer has an excellent warranty program in place so you'll be covered and you can keep your customers happy.
What is the Lead Time for LED Sign Projects?
Lead times can be a crucial part of winning LED sign projects. Make sure you ask the manufacturer how soon you can receive the display(s) after an order is placed, and clearly convey this to your end customer to ensure a smooth sales process.
What is the Quality of LED Sign and How Long Do They Last?
Quality of the LED sign is important. Ask the sign manufacturer which brands they use and do some follow-up research. The quality of the LED determines brightness over the life of the display. Be make sure the display is rated for 100,000 hours. This will help again to determine the quality of the display the manufacturing is offering.


This list is not all-inclusive of the questions you should be asking potential sign manufacturers, but it's a starting point. Contact EM Visual with any additional questions about our LED signs.