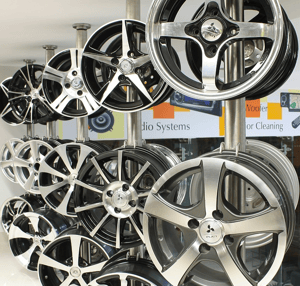 Let's face it; at one point or another, your TV-watching experience has unfortunately been interrupted by a low-budget local car dealership commercial featuring some owner yelling special deals at a rate so fast that it's hard to process. Needless to say, these types of advertisements aren't very effective; if anything, advertisements like that put their dealership on your list of places to avoid.
Luckily, there are some marketing ideas that have proven to be effective for car dealerships all over the country that outperform the traditional radio and TV advertisements (and often cost much less!). Read more to find out about 12 car dealership marketing ideas to try.
1. Enhance Curbside Appeal
In order to entice potential customers to come into the car dealership, it's important to have curbside appeal. As we've written about in other blog posts, there are plenty of ways to enhance the look of your dealership, such as arranging the cars a certain way, or adding LED lighting to your parking lot so the cars are visible after dark. Simply put, having a parking lot that looks nice is a lot better for business opposed to if your exterior looks sloppy and unorganized.
2. Use Email Marketing
One easy way to directly communicate with potential customers is through email. Whether it's sending monthly newsletters about sales going on or new vehicle features, email is an easy way to put your dealership on a customer's radar. You can also use email to set up marketing automation according to user activity on your site. For example, if your tracking indicates a user searching for SUVs on your site, you can use email automation to send them an email that specifically offers specials on SUVs.
3. Utilize Social Media Accounts
Oftentimes, it seems to hold true that people don't know what they need until you tell them they need it — and that's where social media comes in. If someone is scrolling through their timeline and a post pops up about a sale on a line of used cars, someone might remember that their son is about to turn 16 and needs a car, for example. Using social media accounts is a great way to let followers know about sales or new vehicles for sale, and it's all free. Along with posting on the dealership account, encourage sales agents to post on their personal Facebook and Twitter accounts for their friends and family to see.
4. Track Platform Engagement
Once you've gotten used to sending email offers and posting on social media, use a tracking software to see where your leads and conversions are coming from. If a majority of your new customers found you through Facebook, you may want to step up social media efforts as opposed to spending your budget on under-performing platforms. By tracking engagement on all marketing platforms, you'll have a better idea of where to invest your budget, leading to a greater ROI over time.
5. Assign One Person to the Job
This is more of a side note, but still an important tactic to utilize when planning marketing efforts for your dealership. Instead of having a social media presence that everyone can contribute to, try and indicate one or two people to do the postings. This way, marketing efforts don't get lost in translation and there is no miscommunication. The person who is appointed to manage all social media channels, email marketing, and platform tracking will know that they are accountable for the job, leading to a greater output and larger social media presence.
6. Use Live Chat
One of the easiest ways to increase user experience on your site is to leverage a live chat system. Anyone browsing listings on your page is actively looking for a vehicle, so the best way to harness that potential lead is to message them directly. When a user visits any page on a website, there's a small banner at the bottom of the screen that opens up into a chat, where they can ask anything that they need assistance with, and you'll get an immediate notification. Once you've assisted them, you can use the live chat to bring them into the dealership by offering a free test drive of the vehicle they're interested in.
7. Offer Enticing Content
Offering content that users will find helpful in the buying process is an easy way to generate traffic to your site, and essentially create more leads. Writing blog posts, ebooks, and whitepapers about common car-buying topics (i.e., Best Cars to Buy for your Kids, or How to Repair a Windshield Wiper) will increase your site's SEO (more on that later) and will increase the credibility of your dealership.
8. Have Effective Calls to Action
Once you've created content for your site, have a call to action ready to go so that users are easily able to take the next step, which often includes direct interaction with the dealership. For example, if you've written a blog post about "Things that every new car should have," at the bottom of the post, you may want to have a link that says "Sign up for your free test drive today!" so that users are more enticed to follow through. For larger pieces of content such as ebooks and white papers, creating a call to action that leads to a landing page where the user is required to fill out a form before they download is an easy way to acquire contact information to add to a newsletter list.
9. Create Videos
According to a recent student by Invodo, 74% all of internet traffic in 2017 will be video. In addition, 52% of marketing professionals name video as the type of content with the best ROI. So, implementing a YouTube channel for your dealership into your marketing plan may not be a bad idea. You could use your videos to show new weekly deals, or get more creative by taking a video camera along on a test drive with a client to show their true reaction to some of your vehicles. After you've created the videos, display them prominently on your webpage so that they're easily accessible by everyone.
10. Use Specific SEO
The beginning of majority of user's car search involves a basic search, such as "cars for sale," which will result in a whole slew of manufacturers advertising their newest releases. However, when people are further along on their buyers journey, they may have more specific search phrases such as "used toyotas for sale near me," in which case your product page will have a better chance of listing higher in the search engine results. Using keywords throughout your website's content will increase the SEO of your page and will result in higher listings.
11. Promote Customer Testimonials
When people make big ticket purchases, they'll usually want to make sure that this is the absolute best product that will fulfill their needs. By offering customer testimonials, potential purchasers will be able to see what real people had to say about your dealership, and apply it to their purchasing decision. Displaying customer testimonials on your page is an easy way to promote your product in a way that users know is genuine.
12. Make Your Website Mobile-Friendly
If nothing else, at least make sure that your website is mobile-friendly. One of the biggest mistakes car dealerships make is not optimizing their webpage for mobile views, which results in a less than average user experience, leading to a decline in sales. One study found that 43% of car buyers use their mobile devices on the lot to access pricing information, research features and to visit a dealer's website. Popular car-buying apps such as TrueCar and Cars.com will also lead interested customers to your website.
All of these car dealership marketing ideas are more effective alternatives to outbound marketing like TV spots. If your marketing budget is too thin to start putting these ideas in action, consider downloading our Energy Efficiency Checklist below to see where you could be overspending on energy right now.
Do you have a tactic that has worked for your dealership? Let us know in the comments below!