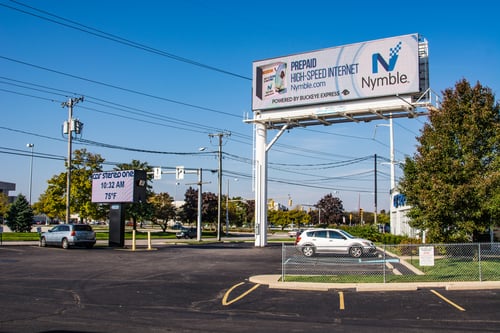 Billboards, regardless of their style, can be an excellent source of revenue and provide a very attractive return on investment. Deciding between opting for a static billboard or digital billboard can be a difficult choice as the up front costs of a digital billboard are a larger investment than a static billboard. However, digital billboards can help you produce revenue at a much higher rate than static billboards.
Here are 4 Revenue-Generating Differences Between Static and Digital Billboards
1. Digital Billboards Increase Ad Space
The first way that digital billboards generate revenue at a higher rate than static billboards is the amount of ad space available. With a static billboard you'll typically only be able to run 1 or 2 ads per billboard during a contracted period of time with your advertisers. Digital billboards on the other hand provide the opportunity to place 12-16 ads on one structure, especially if they're double sided. This creates the opportunity to have multiple advertisers contracted to use your billboard ad space at the same time, in turn generating the same amount of revenue as 4 to 8 static billboards.
2. Digital Billboards Increase Ad Versatility
Digital billboards provide versatility for advertisers to frequently change ads – and save money by eliminating large material costs, like vinyl and other static billboard ad elements. This means that advertisers can design their ad space digitally for a short period of time, allowing them to consider billboards as a part of the marketing mix for a campaign they may not have considered them for in the past.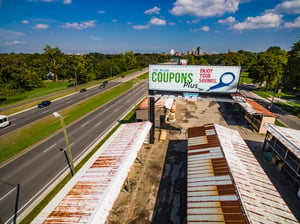 For example, a restaurant could feature a lunch special during the afternoon and a different dinner special in the evening. Or a realty office could feature a different agent each week when the market is at it's peak. Depending on the industry, digital billboards create new advertising opportunities that may not have been considered before.
3. Digital Billboards Stand Out
Digital billboards are vibrant and flashy, which draws the attention of more people. The market is extremely saturated with static billboards making them less noticeable. Digital billboards can cut through the clutter with bright content that dynamically changes, increasing the opportunity to vastly improve how many people they reach. This in turn makes the ad space more valuable to advertisers allowing you to charge a premium.
4. Digital Billboard Space is in High Demand
The final revenue-generating difference of digital billboards is the demand for digital advertising space. Digital billboards are still new to the advertising world, which means there are fewer of them then there are static billboards. The lower number combined with premium features that are impossible to duplicate with static billboards creates a much higher demand for digital billboard ad space then static billboard ad space. This high demand allows this ad space to be sold at a premium rate as well.
Digital billboards give billboard owners the opportunity to earn significantly more revenue than static billboards. These four revenue-generating differences are just the tip of the iceberg. Combined with the convenience of managing your advertisers ads from your computer and other aspects that simplify the process for both billboard owners and advertisers, investing in a digital billboard is a no-brainer and worth the potentially higher up front investment.