Signage is a great way to get your message out to potential customers. It is slightly more challenging to figure out how to get potential customers to act. LED Business Signs are used as electronic message centers that can quickly adjust to your most important message, making the your effort a little bit more effective.
With that in mind, here are 7 ideas for LED business signs to evoke an action from the general public.
Put out a Now Hiring Message
Putting out a "Now Hiring" message on your LED sign is a great way to evoke action from passers by. This is also an easy way to measure it's effectiveness simply by the number of walk-ins and applications you receive. Be specific about what you are hiring for though. This will help you and the potential applicant save time and effort!
Follow Us on Social Media
Using social media to help market your business is another cost effective way to connect with your community. To help tell customers to "Follow" or "Like" you we created dozens of attractive pre-made images and animations in our media library telling customers to check you out on Facebook, Twitter, Instagram, Snapchat, etc. This media library is free to use and professionally designed so you can have these up on your sign in no time.
Count Down to a Specific Date
We recently promoted our LED Display products at an Ice Cream tradeshow, and one of the questions I asked everyone was how did they tell their customers what day they opened. Some said they used social media (which is great). Other's simply said they would turn on their OPEN sign. Since the ice cream industry in the Midwest is mostly seasonal we got to talking about how to create anticipation for opening day. If you know you will open on April 1, use all winter to build eagerness for that day. That's when we talked about our "Count Down" feature in our VisionsPlay Software. Each day your LED sign will automatically count down the number of days until that special April 1st day. This takes only a few steps in our software and allows you to preset the sign months in advance so you can focus on other things.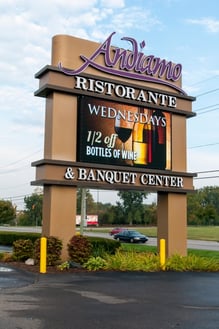 Promote a Specific Product
Grand Rapids is known as Beer City USA and I'm fortunate to be positioned here. Every March Founder's Brewing comes out with very limited quantity of a certain beer called KBS. Beer lovers like myself will search far and wide to get my hands on some. Promoting you have this beer is stock would instantly get new people in your door. Even better, hang on to that special product and randomly put it out on your shelves and on the sign. This will keep people passing by and looking at your sign over and over. Whether its the newest beer or that popular Christmas toy, using your LED sign to say you have it (or not) is a great way to stir up new customers.
Promote an Urgent Sale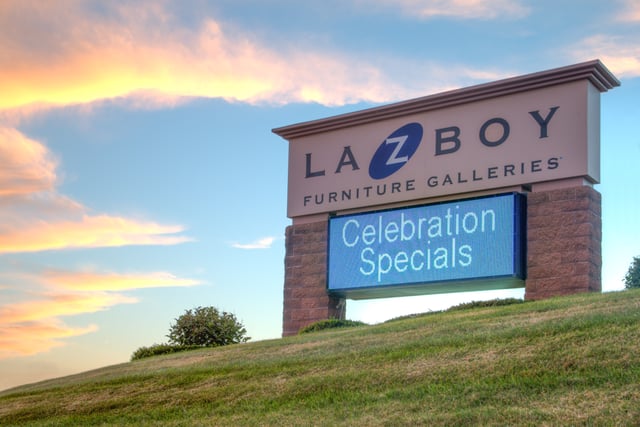 Looking to make room for new products? Run a clearance special with a sense of urgency. Messages such as "WHILE SUPPLIES LAST" can help generate additional impulse buys that would not have occurred otherwise. Everyone loves a good deal. Communicate the regular and clearance price on the sign so people can see the savings. If you can, include a picture of your product on the sign. The more attractive you can make it the better the response you will get.
Schedule Weekly Promotions
We recently installed a new LED sign at Quicktime Burritos in Grand Rapids, Michigan. Since we are in the season of Lent leading up to Easter, the owner decided to promote fish tacos to accommodate those who abstain from meat on Fridays. The owner saw an immediate jump in sales for his fish taco special. Even better, he used the scheduling feature in our VisionsPlay software to automatically rotate through these specials every Friday so he doesn't need to even update his LED sign board each week.
"HONK if you are reading this sign"
Want to just test how many people are reading your new LED sign? Put up a message asking drivers to honk their horn if they see your sign. You'll be immediately amazed and feel verification that your sign is working. For the sake of your neighbors and sanity I don't recommend doing this for long but it truly is a good reminder that your sign is working for you 24/7/365.
Want to learn more about our LED displays and our VisionsPlay software?
Go to www.emdisplays.com and:
Follow @EM_Displays on Twitter
Follow @EM_Visual on Instagram
Have any other suggestions? Feel free to use the comments section below to add more ideas, or share what you messages you've used most successfully.