Since 1969, Electro-Matic has helped transform American industry by supplying automation components and solutions to leading U. S. manufacturers. Today, Electro-Matic continues to leverage the value of emerging technologies by developing practical applications for industrial, commercial and retail markets. As a technology company, we help our customers turn innovation into value. As a one hundred percent employee-owned business, our customers enjoy the benefit of a supplier partner intently focused on delivering strong value-for-value relationships.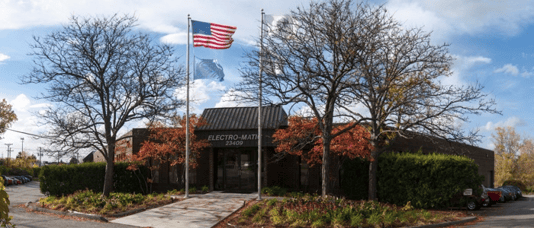 Our Farmington Hills Corporate Office
What makes Electro-Matic LED lighting the better choice over other options? What are the factors that contribute to our superior lighting solutions and why should you use Electro-Matic Visual for your LED lighting projects?
Put Simply: "We Know What We Are Doing"
Electro-Matic has been applying LED's for over 20 years. With several thousand LED installations throughout the world we have a vast array of experience that has led to us understand how to build and apply reliable and high performing LED lighting installations that delight our customers. Proper lighting is important to provide a safe and comfortable working environment for your employees. Properly designed lighting needs to create an inviting environment for your patrons and customers. Our certified lighting specialists have the experience and knowledge to design a lighting system to improve the appearance of your facility while reducing your energy consumption.
Our Modular LED Lighting Fixtures Are Built in Michigan
Our modular design allows us to create the size and light distribution to meet the energy requirements and optimal light coverage for your LED lighting projects.
Building these fixtures here in the USA in our ISO 9001 certified facility allows us to control the quality and deliver quickly to your location.
Electro-Matic Is an Employee-Owned Business
Electro-Matic is employee-owned. Each employee understands our primary function and the reason we are in business is to serve our customers. Every employee has a vested interest in the long term growth and success of our company. This culture of turning innovation into value for our customers is pervasive at all levels at Electro-Matic. The benefit to our customers is they can rest easy that their LED lighting system will be supported properly by a company that cares and will be around for the life of their LED lighting installation.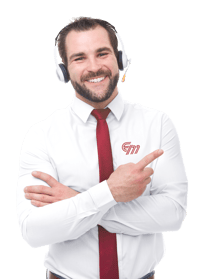 24/7 Customer Service
Our customer service team is available 24/7 to support your LED lighting projects. With Electro-Matic LED installations throughout the globe we ensure our customers are be able to contact us at any time of the day so we can support their LED lighting systems.
Wireless Control Capability
The ability to dim or turn off your lighting fixtures when the light is not needed can deliver optimized energy savings for your LED lighting application. When replacing traditional HID fixtures with new LED fixtures it is not practical to add control wiring, thus the need for wireless communication to control LED lighting fixtures. Motion sensors and dimming profiles can be implemented to wirelessly control banks or individual LED lighting fixtures to enhance your energy savings. Electro-Matic Visual is a certified wireless LED lighting system provider and has the knowledge to design, implement, and commission wireless LED fixture installations.
ROI Analysis and Photometric Design
The upfront cost of LED lighting projects is more expensive than traditional HID fixtures. However, it is well understood that this cost is offset in a short period of time by the energy savings that are realized due to the low energy consumption of LED's. LED's have a usable life of 10-15 years without significant light degradation resulting in significant maintenance savings as well. Electro-Matic will analyze your facility, do a photometric study and provide you with a documented accurate return on investment analysis that shows the rate of return you need to justify the conversion to LED lighting.
If you're interested in reading more about this topic, please download our whitepaper on Increasing Business Profitability.
Peace of Mind
The rapid growth of the LED market has spawned many LED companies that virtually sell LED light fixtures out of their trunks. It is very easy to import substandard fixtures from Asia from companies that may disappear tomorrow leaving you with failing fixtures and no where to turn for support. Electro-Matic has been in business since 1969 and our employee ownership structure assures we will be there to support your LED lighting system throughout its useful life. Our heritage comes from supplying automation and LED systems to the demanding automotive customers such as Ford, Toyota, Mercedes, Chrysler, GM, Goodyear and many others. We are presently supporting LED installations in manufacturing facilities that have been performing reliably for over 15 years.
You can be confident that if you choose Electro-Matic as your LED lighting supplier you will receive a well designed, high performing, reliable lighting solution that will be supported by a solid company throughout the life of your LED lighting installation.