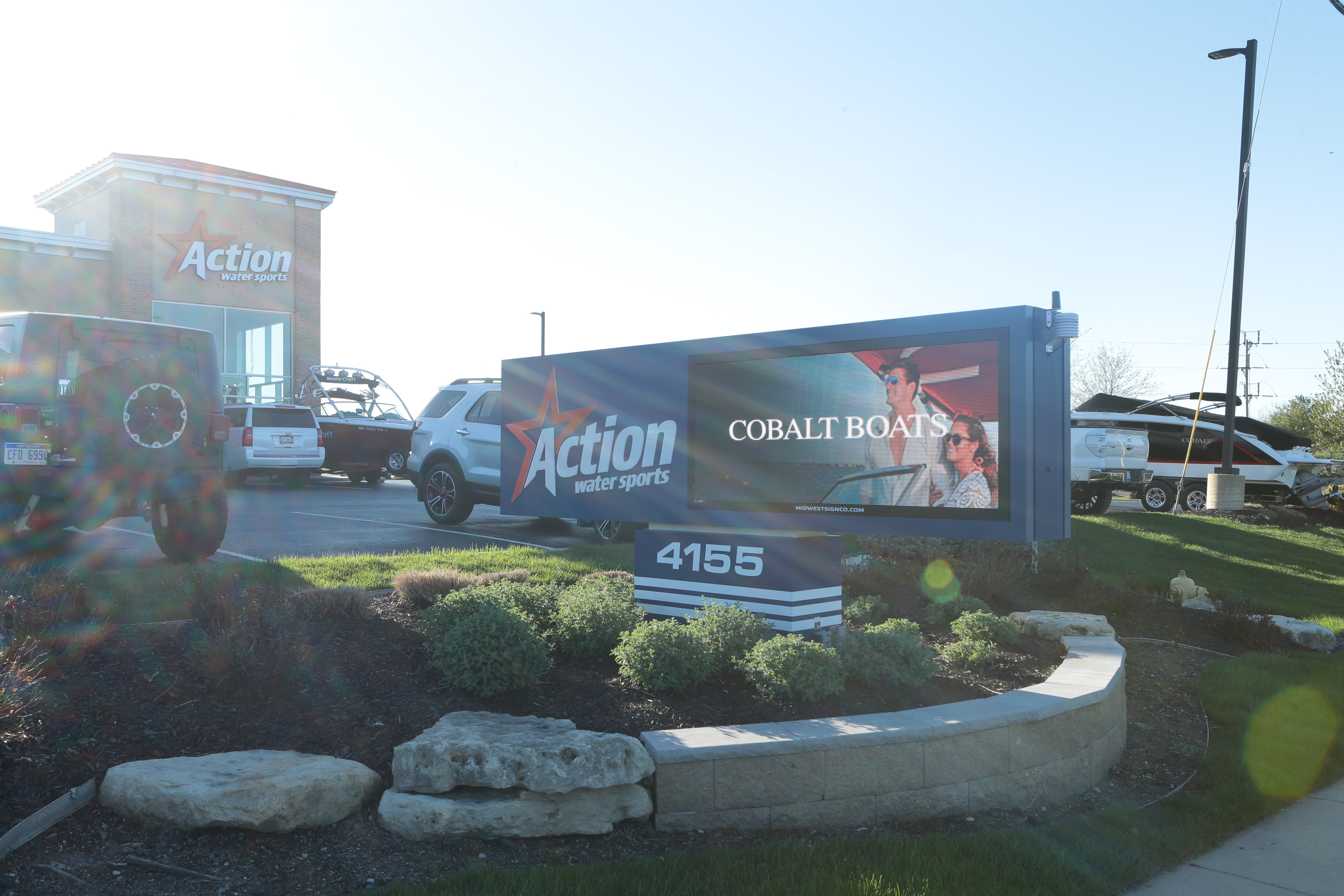 Action Water Sports is a Michigan-based boat dealer and retailer with locations in Hudsonville, Fenton, Traverse City, and Florida. Action Water Sports Hudsonville is also home to Michigan's first and only full-size cable park. The cable park is used for lessons, demonstrations, and other special events.
After years of growth and a large renovation to their Hudsonville location, Action Water Sports knew they wanted to upgrade their signage to match their updated building. Their existing monument sign was in nice shape but had an outdated changeable copy sign that was inconvenient to change. It also didn't capitalize on the skills of a strong in-house digital marketing team.
LED Sign Upgrade
The goal of the project was to upgrade their exterior monument sign to reflect the high level of service and products they carry in their store, while also staying within the size and content limits of the local jurisdiction. The space of the existing changeable copy sign was a unique size that they were not sure could be filled with an LED sign.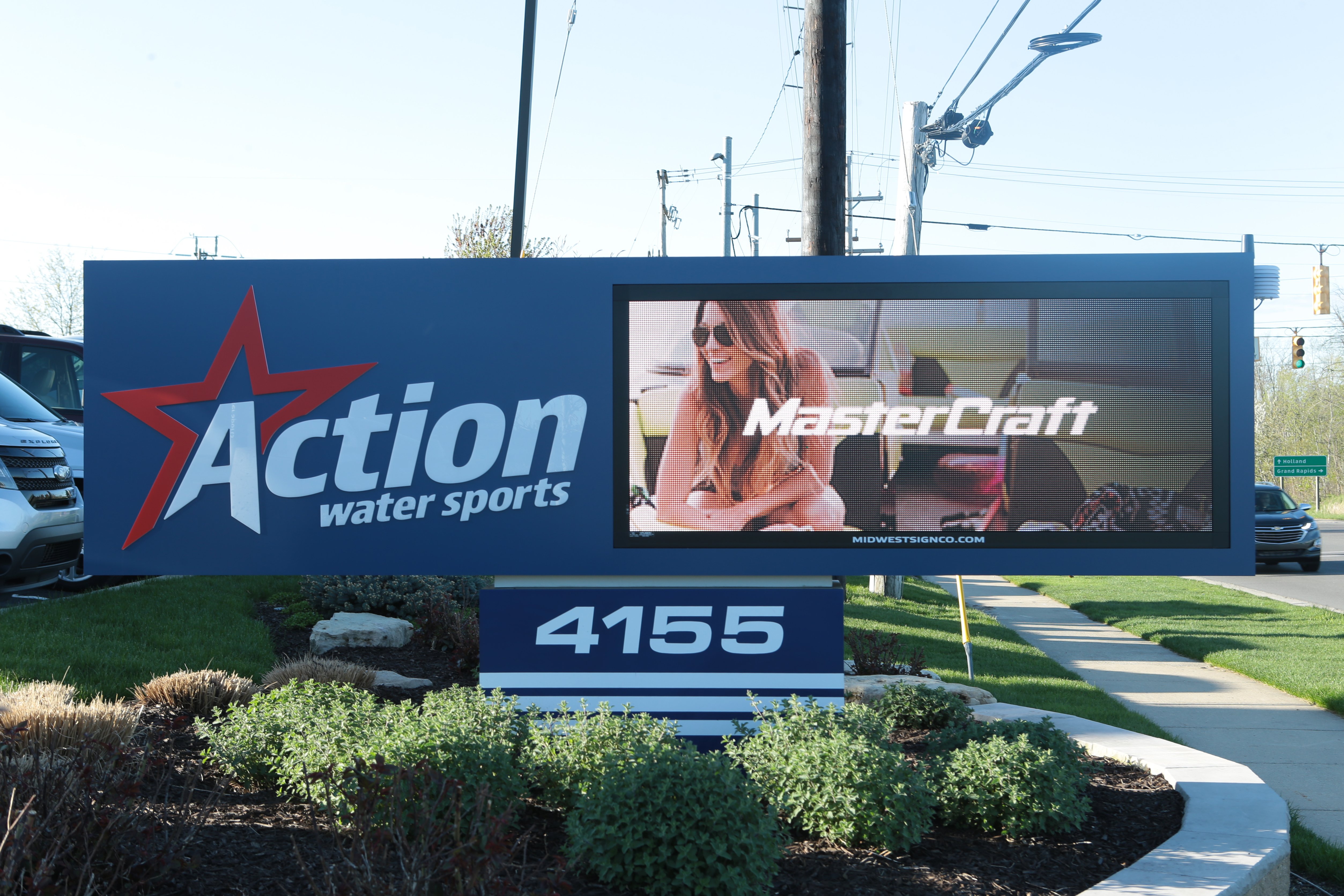 Action Water Sports enlisted the help of their long-time signage partner Midwest Sign Company of Byron Center to assist. Midwest Sign had recently seen the new 6mm LED sign at Meadow's Crossing in Allendale and knew the same Electro-Matic product could potentially be a great fit. Midwest Sign had the owner of Action Water Sports check out the sign at Meadow's Crossing and he agreed the 6mm pixel spacing would be ideal for this location. Between the close proximity to the road and the type of content they wanted to put on the sign the 6mm option made the most sense.
Benefits of New LED Signage
Because Electro-Matic signs have the most size options available out of any LED manufacturer, Midwest Sign and Electro-Matic were able to configure a 6mm LED sign that fit perfectly in the existing sign cavity. This meant Action Water Sports did not need to worry about exceeding their allowable square footage and the high pixel density of the Electro-Matic display allowed their digital marketing team the freedom to put breathtaking high-resolution pictures on their sign. Now, Action Water Sports could change their messages on the sign instantly and more frequently from the comfort of their office. They are now able to promote more services and products that they couldn't fit on the changeable copy sign they had previously. Midwest Sign did a terrific job with the installation and commented on the ease of installation.
List products and services EM used:
120 x 300 matrix 6mm Electro-Matic Fusion LED Display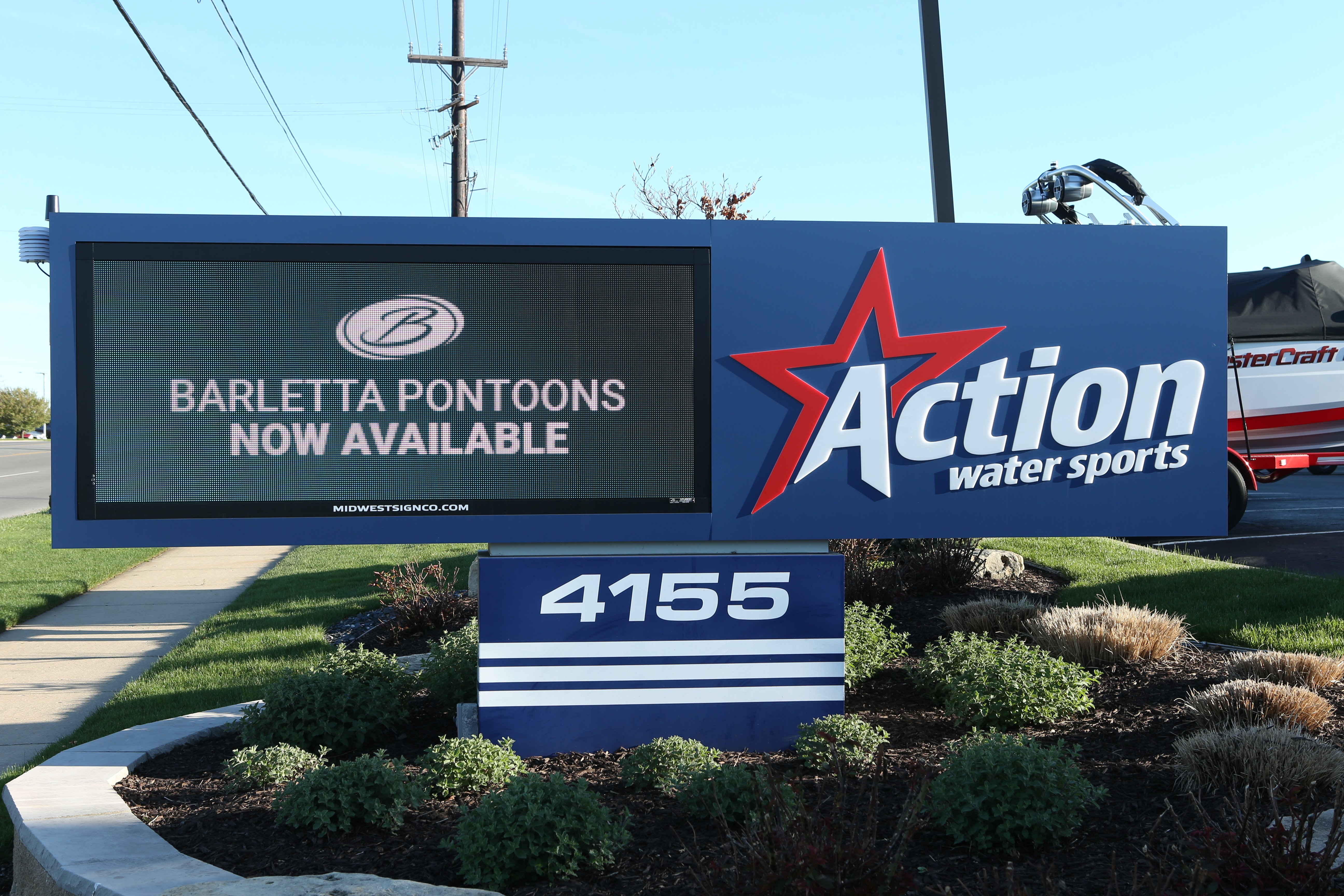 "Alan and his team at Electro-Matic were great to work with on this project! We had a problem and Alan had a solution. His prompt responses to our questions and willingness to literally walk along side of us and our client through the process was remarkable. The quality and clarity of the 6mm unit we purchased along with their customer service far exceeded our expectations. Well done Alan!"
– Mike Tiesma, Director of Business Development at Midwest Sign Company
"It's been a pleasure to work with Mike at Midwest Sign Company and the Action Water Sports team for this sign project. I could not think of a better fit than the 6mm Fusion LED sign we used at this location. The AWS marketing team picked up on the software immediately to provide remarkable looking content from day 1. Midwest Sign Company provided exceptional service from start to finish and I would not hesitate to work with them again. Thanks again for your support!"
– Alan Nicholson, Regional Sales Consultant