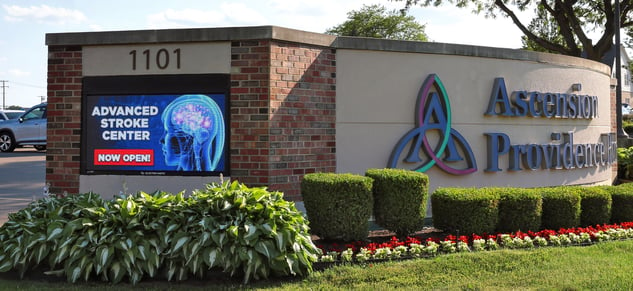 Ascension Providence Hospital in Rochester delivers advanced emergency stroke care using advanced brain imaging and stroke assessments to rapidly diagnose and treat patients who are experiencing stroke symptoms. They are a team of doctors working together to deliver medication therapies, surgical care options, and neurophysiology care that's right for the patient.
Electro-Matic noticed that Ascension's old display wasn't working and reached out to the hospital identifying that their need for new signage, and specking our product into the mix. From there, Electro-Matic worked together with Allied Signs to perform the removal of the old Daktronics display and install the new Electro-Matic six-millimeter one.
Since the installation in October 2020, they have been able to promote their amazing stroke center, congratulate their heart doctors, and other community events with content made by Electro-Matic! Everyone at the hospital and in the community has loved their new upgraded signage.
"We love our new sign, and the artwork from Electro-Matic looks great! Thank you to everyone involved."
— Laura S. Mulligan, Ascension Hospital Nurse Manager