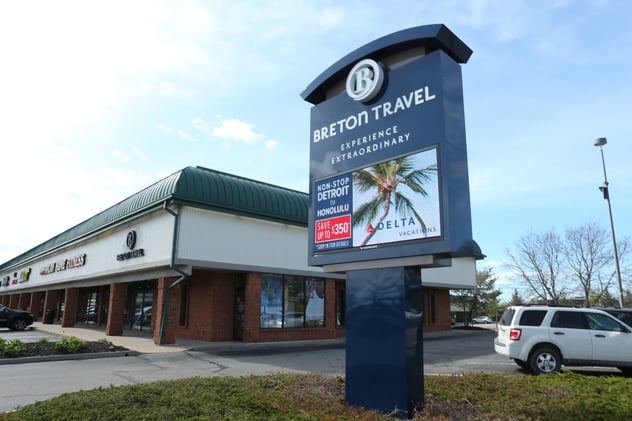 Breton Travel, a travel agency specializing in cruise and vacation planning, have been helping clients make beautiful memories for nearly half a century. It was founded in 1973 by Walt and Audrey Lovell, and now has two locations in Grand Rapids ran under the leadership of their son, John Lovell. As Breton Travel's President, John has continued the level of quality and travel experience clients can rely on. Breton Travel's well-traveled and experienced family of advisers understand the difference between price and value, and the importance of your time and money. They're the kind of company that will be there for you before, during and after your journey.
Outdoor LED Display Project Objectives
Travel planning continues to evolve into an almost entirely internet-based, lowest-price-wins booking decision. However, Breton Travel wants to go beyond that. They wanted a new sign that showcased the quality and superiority of their services to the 30,000+ cars that drive by their 28th street location each day. They also hoped to earn advertising co-op dollars from cruise lines and other vacation destinations to supplement their revenue and offset the cost of the sign.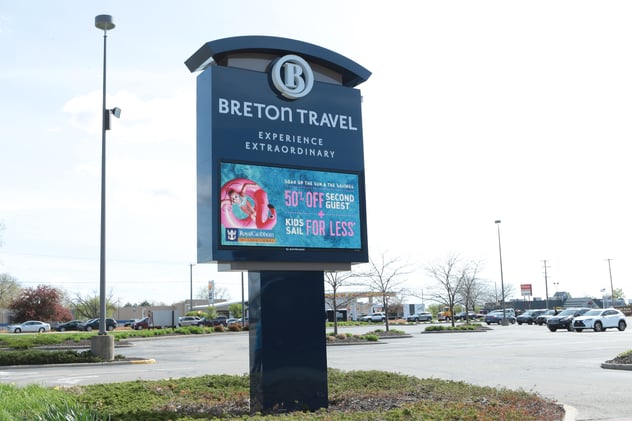 Choosing the Right LED Displays
Working together with Breton Travel, Signworks of Michigan, Inc designed and installed a stunning pylon, which included an 11mm LED display. SIGNWORKS scheduled a live demonstration with Electro-Matic and John Lovell, President of Breton Travel, to see the different pixel pitch options that were available. Electro-Matic loaded vacation-themed content on both the 16mm and 11mm options so it was easy to compare the two. After the live-demo Breton agreed the 11mm Electro-Matic Visual LED display would give the picture clarity and impact they were looking for.
Benefits of Outdoor LED Display Project
The 11mm pixel pitch features 2x more pixels than the 16mm. This allowed Breton Travel to put highly detailed pictures and promotions on the LED for maximum impact and readability. Additionally, Electro-Matic's proprietary LED sign software allows Breton Travel to run reports for their advertisers that state how many times their advertisement was shown on the sign, providing them with additional data and ROI backup.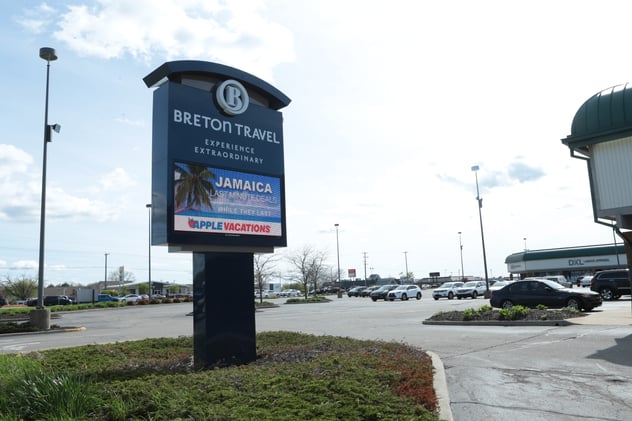 "The sign is working great. The image quality is fantastic. We have been working with our suppliers to fill up all of our time slots. Some of them have even stopped by to see it and were very impressed. Now we regularly get walk-ins from customers referencing the sign which we never had before. We are very pleased with how the sign has done"
- Matt Van Kirk, Breton Travel Director of Marketing & Events.