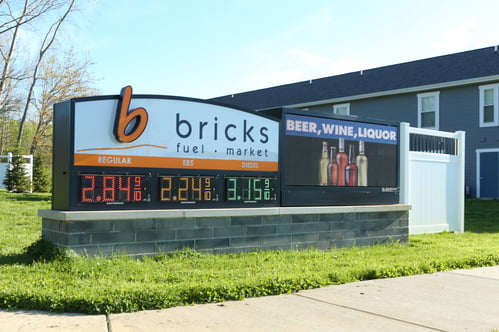 As stated on their website, "Bricks was founded by Brad Yonker and Nick Fischer in Alto, MI. Together, Brad and Nick wanted to create a brand of their own with the freedom to sell their favorite foods, and give customers a fresh, convenient, and friendly experience they wanted but were not getting from a typical "gas station". Being in the industry for years they knew what the public perception was of a "convenience store" or "gas station" and wanted to change that.Taking a suggestion to combine their names, the "Bricks" brand was born, along with a commitment to improve the industry standard by implementing their brand through all areas of business."
Outdoor LED Display Project Objectives
Because Bricks opened about two years ago, were under new construction, and didn't have any signage beforehand, they really wanted to have a strong impact with community. They wanted to make sure to stand out and be noticed with their new LED upgrade. Brad wanted to show that his business was more than just a gas station. They wanted their new display to promote food, beer on special, customer appreciation, event promotion, content announcing when they were hiring staff, and much more. The displays are different everyday at Bricks, but one advertisement in particular they found was a huge success was the offer of free Slurpees. It was a really good way to get people in the door.
Choosing the Right LED Displays
.
Benefits of Outdoor LED Display Project
After Electro-Matic Visual reviewed and evaluated the project, our experts engineered a solution that provided Bricks with LED displays that were more appealing to the eye, as well as more energy efficient and cost effective, too. To complete the job in full, the project required three Electro-Matic Visual double 10 mm high res, high level detail graphic displays. One is located on 8th street, one is on Port Sheldon, and one sign is on the corner.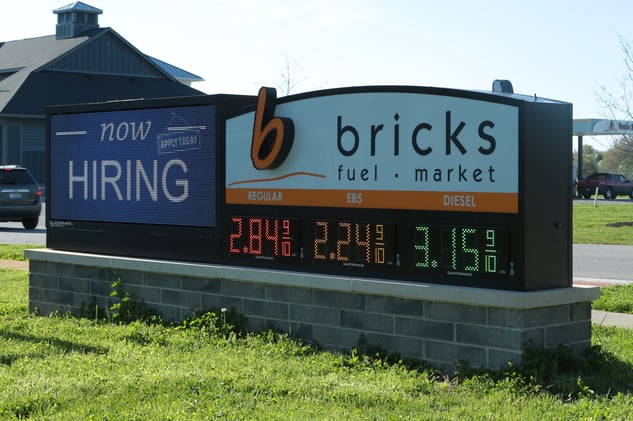 The net manage meter allowed Bricks to send the same playlist on all three signs at the simultaneously, in turn, saving them time. Additionally, the highly detailed pictures and promotions on the LED for maximum impact and readability.
Overall this project was a huge success. Electro-Matic would like to give a special thanks to Alcam Signs and Lighting, for their assistance in permitting, installation, and setup for Bricks Fuel.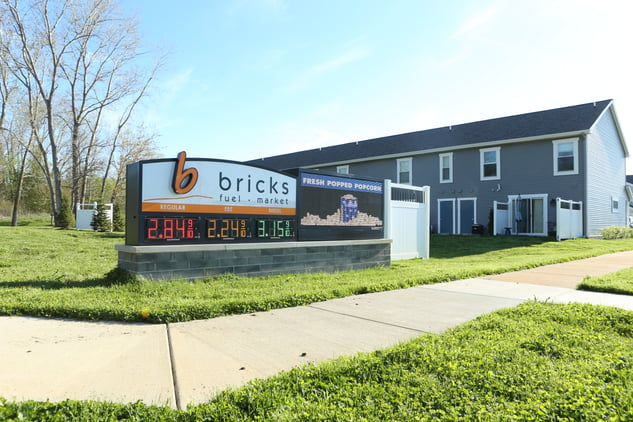 "I was so excited to work with Bricks. I actually live only 5 min away, so it was great to have a part in the new addition to the community."
- Alan Nicholson, Electro-Matic Visual.