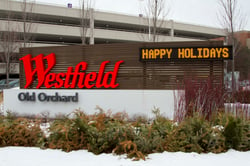 Electronic message centers continue to be an affordable way to interact with guests, inform patrons of upcoming events, extended hours and sales. Westfield Orchard Mall, an open-air upscale shopping center in Skokie, Illinois is the newest mall to feature an Electro-Matic Products electronic message center. The project was an exciting conglomeration between South Water
Signs and Electro-Matic Products.
"We would like to thank South Water Sign Company and the Westfield group for helping us expand our brand of Hyperion Electronic Message Centers in the Chicago market. I would strongly recommend South Water Sign Company to anyone looking to partner on a large project or national account. "
James Baker Electro-Matic Products Inc.
Regional Sales Manager of Visual Products
"Electro-Matic's Visual Products team was instrumental in helping South Water Signs complete this multiple EMC project. From assisting with the site surveys, to setting up communication and completing training. They were with us every step of the way."
Tony Chiavola South Water Signs
Vice President of New Business Development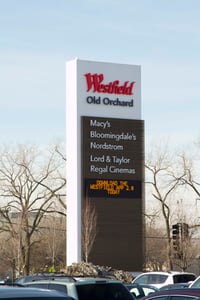 Westfield Orchard Mall can now show messages that attract customers to their mall, tailoring to their shopping interests, with multiple messages at once, and in turn increase their traffic with just a touch of a button. Electronic message centers are truly the most eye-catching and latest technology for any retail establishment. If you are interested in learning more about the electronic message centers and other digital signage Electro-Matic Products can offer your business or establishment. Please visit us at electronicmessagecenters.com or call 888-273-6164.
About Electro-Matic Products
Turning Innovation into Value
Since 1969, Electro-Matic has helped transform American industry by supplying automation components and solutions to leading U. S. manufacturers. Today, Electro-Matic continues to leverage the value of emerging technologies by developing practical applications for industrial, commercial and retail markets. As a technology company, we help our customers turn innovation into value. As a one-hundred percent employee-owned business, our customers enjoy the benefit of a supplier partner intently focused on delivering strong value-for-value relationships.