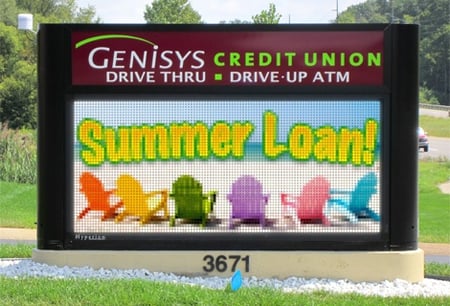 Genisys Credit Union of White Lake, MI is now the most recent branch to display an Electro-Matic Products Hyperion LED Electronic Message Centers. Following the three Hyperion units installed in 2008, the White Lake Installation is just the next step toward the digital future for Genisys.
Creative Designs & Signs, Inc., Genisys Credit Union and Electro-Matic have been working together on all of the sign designs and installations:
"We like to work locally with Michigan based manufactures. Everyone at Electro-Matic is very knowledgeable about their LED products and easy to work with."~ Jody LaLonde, Creative Designs & Signs
"Through utilizing their partnership with Genisys Credit Union, Jody and team at Creative Designs & Signs have done a tremendous job expanding the Hyperion brand in the local Metro Detroit marketplace". ~ James Baker, Regional Sales Manager, Visual Products. Electro-Matic Products, INC
Look for Creative Designs & Signs next Hyperion installation at Genisys Credit Union coming to the city of Troy, MI this September.
Genisys Credit Union is a not-for-profit, member-owned financial institution that has been committed to helping its members financially since 1936. Based out of Auburn Hills, Genisys is one of the largest credit unions in Michigan and one of the strongest in the country.
Since 1980, Creative Designs & Signs, Inc. has provided value to our clients - high quality signs at affordable prices ...and, we make it easy! We'd love to have you visit us - enjoy a tour of our historic building (circa 1901 former bank) and see signs actually being built. You can be sure that your sign will be well built because we build it - no one else and we are very proud of that! We will collaborate with you to design signage that reflects the quality of your business and makes you stand out among your competitors, which ultimately helps make you money! We offer an unconditional warranty as a testimony to our commitment to customer satisfaction!
Electro-Matic Visual Products offers complete solutions for banking and financial institutions through superior outdoor LED displays, indoor LED displays and Visions Flat Panel LCD displays. EMP's Hyperion®, and 4U2SEE LED displays can provide the perfect display for any financial institution. The EMP Visual Solutions' hardware and software ensures each of these solutions affordable, cost beneficial, easy to update and maintain. Did we mention, all of our signs are Built in the U.S.A.? For more information, contact Electro-Matic today!