Michigan's State Fair will be back again this year,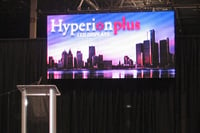 under a new name: the Fifth Third Michigan State Fair. Electro-Matic Product's own Hyperion Plus helped make this announcement on March 25th at the Suburban Collection Showplace in Novi.
"Electro-Matic was excited when the Suburban Showplace asked us to help them announce Fifth Third Bank as the new title sponsor of the Michigan State Fair. We were happy to incorporate the use of our Michigan made Hyperion Plus LED Displays into the press conference."
~James Baker, Regional Sales Manager of Visual Products Electro-Matic Products, Inc.
This year's state fair will be bigger and better this year, while continuing to offer all of the great traditions of the event that started in Detroit in 1849.
"We are so proud to partner with the great financial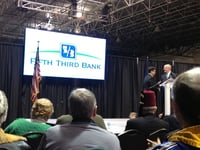 institution, Fifth Third Bank, which has strong roots in the community, and provides significant support to charitable efforts across the state. We promise to make the Fifth Third Michigan State Fair bigger, better and more fun for a long time."
~Blair Bowman, Owner Suburban Collection Showplace
About Electro-Matic Products, Inc.
Electro-Matic Products has been manufacturing LED signs since 1985, with over 50,000 displays in operation worldwide. Our HyperionPlus LED Displays are built in Michigan.