Electro-Matic Visual Products adds HyperionPlus digital display to city of Indio, expanding California Market

Electronic message centers continue to be adopted by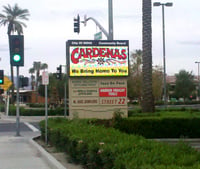 municipalities bringing advertising value to business members, residents and visitors. The City of Indio, located in Southern California's Coachella Valley, boasts an active calendar of year round festivals, recreational activities and community attractions.
"We would like to thank American Digital Advertising and The City Of Indio for allowing us to supply our quality HyperionPlus display for their community notification board. American Digital Advertising exemplifies a complete turn-key communication solution for Southern California communities and businesses."
~Nate Nye, Regional Sales Manager of Visual Products
"American Digital Advertising developed a new and exciting concept with the assistance of Electro-Matic in 2012. Our concept, brings small business, City Chamber and City events together for the growth of our city: Indio California. With this new Electro-Matic electronic message board on HWY 111 all Indio businesses, city events and festivals can now target local residents and tourists with up to date information i.e. dinning, golfing rates, shopping and events though out the city each day.
The board produces sharp clear images on a smaller display for the local drive by market.Electro-Matic's service and dedication to our business is unmatched in the Digital Board industry. Thank you Electro-Matic and the City of Indio for being part of this new dynamic beginning. We look forward to our future boards from Electro-Matic."
~Elizabeth Grosse, American Digital Advertising
About Electro-Matic Products, Inc.
Electro-Matic Products has been manufacturing LED signs since 1985, with over 50,000 displays in operation worldwide. Our HyperionPlus LED Displays are built in Michigan. To learn more about the many LED Displays we can offer your business visit:
www.empvisualsolutions.com