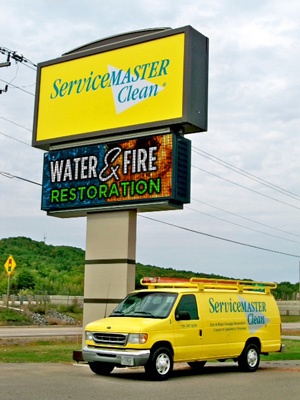 Electro-Matic Products and Stratford Sign Company bring both high-quality products and experience together to one of North America's leading cleaning and restoration companies. For nearly 70 years, ServiceMaster Clean has gained a reputation for their service, quantity, professionalism and customer satisfaction, and Electro-Matic's Hyperion Plus digital outdoor LED display brand proves to be the best choice for them!
"Stratford Sign Company produces the highest quality work in the business and has a fantastic customer base throughout the state of Wisconsin. They have been a pleasure to work with and we thank them for expanding our Visual Product lines in the region."
~James Baker Regional Sales Manager, Visual Products Electro-Matic Products, INC.
Adding Service Master Clean to their hundreds of installations, Electro-Matic Products and Stratford Sign Company are excited to bring the latest energy-efficient, Hyperion Plus LED digital sign technology, 24/7 technical assistance and modern software to one of the 4,500 franchise locations of ServiceMaster Clean.
"We have been partnered with Electro-Matic Products using their "Built in America", Hyperion brand for over three years and are excited for Service Master to take advantage of their new Hyperion Plus LED technology"
~Dan Drexler owner of Stratford Sign Company.
With hundreds of installations and over 40 years of ensuring customer satisfaction, Electro-Matic Products' Hyperion line of electronic message centers provides a superb, made in America product at a competitive price. For more information on Electro-Matic or the Hyperion LED Electronic Message Centers, please visit:
www.electronicmessagecenters.com
.