Electronic Message Centers: LED Bank Signs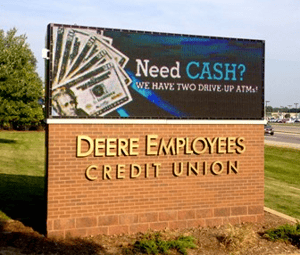 More and more banks, financial institutions and credit unions are using electronic message centers. What's the big hype about them? Electronic message centers can now do more than just your average time and temperature. Technology, as we all know, is advancing quickly and so are these signs. Electronic message centers have advanced into personal digital digital billboards, if you will.
Not only can you display just an image, nowadays video and live video feed is achievable. As the operator, you have the ability to tailor your message in whichever manner you would like. You have the freedom to be creative, witty, and sincere. The full color and mono-color displays are designed to achieve more business, visits, subscriptions, awareness, and improve your overall image. Whichever one you choose your electronic message center will not disappoint.
How to Utilize Your Electronic Message Center
Banking institutions and credit unions can use an electronic message center to attract potential customers in a variety of ways. There are several key ways to generate customers and goodwill through your electronic message center.
Get The Word Out-

Advertise rates on loans, monthly specials, your new drive up ATM, or your great customer service awards

What You Do Best- Display any products you offer,tell the community about savings accounts, transactional accounts, mortgages, personal loans, debit and credit cards.
Be A Part Of The Community- Create goodwill throughout community by displaying community announcements and events
Build Customer Rapport- Congratulate groups and organizations throughout the community about recent achievements and successes
Special Events- Announce fundraisers, customer appreciation days, your latest sponsorship of the local little league team and their upcoming championship game
All banks, financial institutions, and credit unions can benefit from owning an electronic message center. Ultimately, your electronic message center will create goodwill and generate new customers through the ability to communicate important, tailored messages to your liking. Please visit www.empvisualsolutions.com for more information on our products and what we can do for your business.