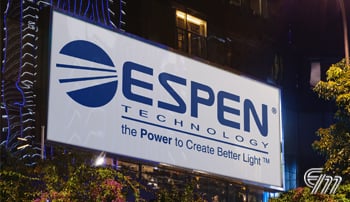 Espen Technology is dedicated to delivering sustainable and environmentally progressive lighting solutions. Their products reflect an emphasis on sustainability, quality, and reliability. As our relationship with Espen blossomed while working with them for the past four years, we saw an opportunity in which their LED sign cabinet line paired perfectly with our market, having been selling LED lighting and LED displays in the sign industry for decades.
Electro-Matic Visual Partners with Espen Technology
Electro-Matic Visual is excited to announce its new partnership with LED lighting manufacturer, Espen Technology, as the exclusive provider of their LED sign cabinet lighting line throughout the Midwest territory. We intend to sell this product throughout the sign industry, through our channel of sign companies and sign distributors. Additionally, it is important to us that we educate the sign industry on the true value of this product. We mean it when we say it's the real deal—"sign lamp retrofit made easy". These LED sign tubes are easier to install and better than anything on the market for new construction signs.
Customers will be offered quick turnarounds, with the product shipping from the Midwest within two days of placing the order.
"Electro-Matic Visual is excited to be partnering with Espen Technology and looks forward to bringing this LED sign tube lighting technology to our existing customer base."
— James Baker III, EM Visual Vice President