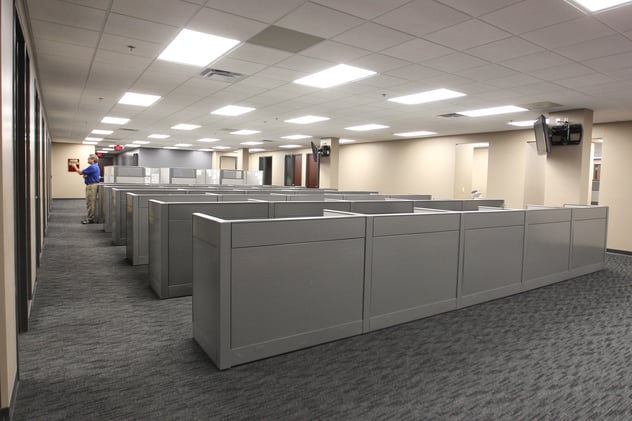 Fabiano Brothers decided that they wanted to convert their office lighting to LED lighting like the rest of their facility is equipped with. They knew that the savings benefits of LED lighting were significant, but they also were attracted to other benefits of LED lighting too. Electro-Matic Visual was able to supply the LED panel lights that are virtually maintenance-free and are designed to provide
employees with higher energy levels.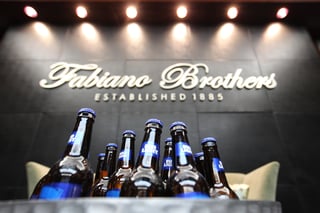 The LED panel lights were adjusted to accommodate the worker's environment. Correct lighting where employees are present has been proven to provide them with higher energy levels to help them stay focused, be more positive, and more productive.

"The LED lights are much less expensive to operate, are a whiter light that gives our facility a more state of the art appearance, and have been very well received by our employees from a functional standpoint." - John M. Bicknell II, COO, Fabiano Brothers, Inc.
LED Wall Packs Increase Visibility and Security While Reducing Energy Consumption
The LED panel lights are ideal for these spaces because of their ability to not only produce efficient light but also consistent light. Traditional fluorescent light can not be projected in a particular direction, where LEDs can. Having a consistent light throughout a given area gives a room more visibility and virtually no dead spots. Click
this link
for more on the Fabiano project.

Fabiano Brothers are constantly moving beverages in and out of their facility. Proper lighting not only on the inside was needed, but the importance of having their loading docks equipped with quality LED lighting
wall packs
was necessary to have their hundreds of trucks load and unload safely throughout each day.
Backing in an 18-wheeler to a tight area with precision can be daunting for semi-truck drivers. Doing it with poor lighting turns that task into a nightmare. Understanding their semi-truck drives challenges, Fabiano Brothers decided to implement LED wall packs to help guide the drivers into the loading docks. The optic throw that the LEDs use pitches the light forward off the wall and onto the desired area to help make the path to the loading dock visible for the drivers.
Wall packs were not just used for the loading dock, they also fit the needs for other applications around the high bay doors that the semi-trucks would enter and exit for picking up shipments. The wall packs act as a guiding light for the drivers, giving them visibility when entering or exiting the doors.
After business hours, wall packs are and good lighting in general, are necessary for providing good security. Security cameras that are placed outside of the building would be irrelevant without good lighting. By strategically pitching the light, the wall packs create enough light for security cameras to record high quality.
Fabiano Brothers Installs 250 LED High Bay Lights to Improve Facility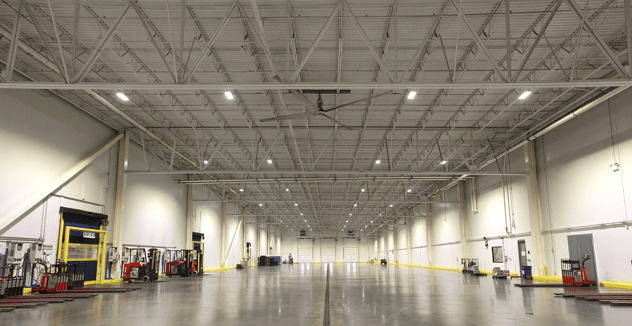 Fabiano Brothers of Bay City, MI is a premier beverage distributor providing licensed accounts beverages throughout Michigan as well as central Wisconsin. This 100,000 square foot is located in Bay City, Michigan includes beer storage space, receiving area, larger recycling center, and offices. Fabiano Brothers wanted to implement an efficient light source throughout their whole facility to increase security, reduce operating costs, and improve working conditions.
Electro-Matic Visual was up for the task
.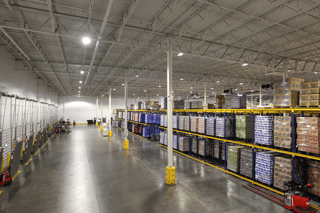 Electro-Matic Visual supplied the 250 indoor
LED high bay lighting
throughout the Fabiano Brothers facility. The high-quality LED lighting fixtures and bulbs ensure for a long life period of over 100,000 hours to reduce maintenance costs, increase safety and increase energy savings.
"The LED lighting is certainly an improvement in the quality of light. We were able to realize $34,000 in savings on our overall electric bill for the less than full year that we had the LED lights and this takes into account any rate increase from the utility supplier." – Jerry Witte, CFO, Fabiano Brothers
Not only does Fabiano Brothers see energy savings and maintenance savings, but the LED lighting also provides a much more safe working environment for the workers and is much more appealing. "My warehouse employees really like the LED style of lighting not only because it is clean and bright but because the light is where it needs to be… on their work." – Jerry Witte, CFO, Fabiano Brothers
The partnership with Fabiano Brothers and Electro-Matic Visual
made this outstanding high bay LED lighting upgrade to happen. This impressive facility is now able to function at a higher efficiency while improving the productivity of their workers and making the environment they work in safer.