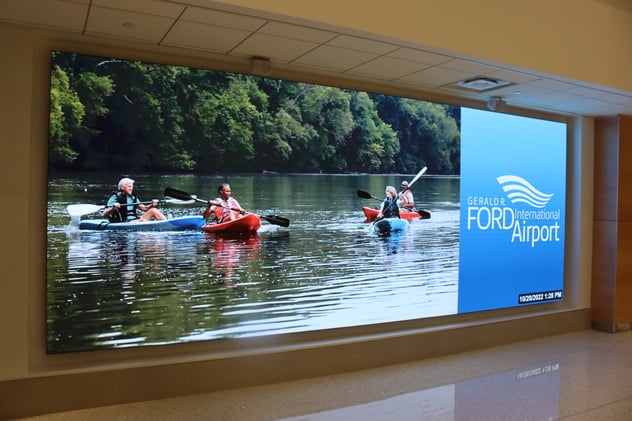 Gerald R Ford International Airport is the second busiest airport in Michigan with over 3.6 million people having traveled through it in 2019. They offer 140 nonstop flights a day to 34 popular destinations. Flying with Gerald R Ford means you spend less time driving to big city airports, waiting in big city lines, paying big city premium parking costs, and dealing with big city traffic headaches.
To help enhance the traveler experience the airport features a large digital wall of TVs in the Grand Hall adjacent from airport security. This wall consisted of 24 LCD televisions showing content such as welcome greetings, advertisements, weather reports, and more. However, over the years this focal point was starting to look discolored and tired. The TVs were fading, not matching each other and starting to need replacing. Not only that, but the gridlines between the TVs were not perfectly aligned and didn't provide the best image quality.
Interior Video Wall
For a solution, Gerald Ford confidently turned to Electro-Matic Visual following the success of our first project with the airport, as well as Freshwater Digital—a leader in the digital signage field that provides high quality hardware, software, content & support to every market imaginable. After much discussion, Freshwater & Electro-Matic recommended a new 1.9mm direct view LED video wall. The finished product measures over 8 feet tall and 22 feet long and features over 4 million pixels.

After completion, the video wall has received rave reviews:
"…the videowall looks great! The color, brightness, fit to the space are much improved. The wall turned out much better than we imagined. Thank you to everyone involved on this project."
— I.T. Manager, Grand Rapids International Airport
If you or your company are looking for ways to enhance their space with digital signage technology, click here to get started!