If you're interested in purchasing an LED sign for your church or school, some of the biggest questions will likely be How much is an LED sign? and How can we fit an LED sign into our budget? To get started with figuring out a ballpark figure of LED sign prices and budgeting options, be sure to consider the following factors.
Retrofit LED Sign or Start from Scratch?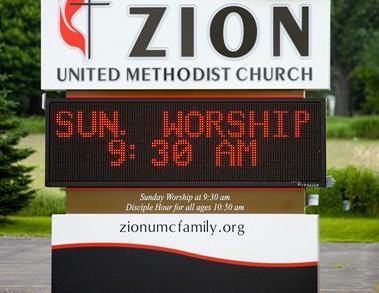 If you're looking to start an LED sign project from square one then it will be a little more expensive to cover everything your sign will need, but the investment will be worthwhile when it comes to giving your building and property a fresh and updated look.
Retrofit LED Signs involve keeping existing signage and just replacing the portion of the sign of changeable content with a new LED display. If that's an option for your church, you won't need to budget for as much as money as you would for a installing a completely new LED sign.
Communicating Your Message with Your LED Sign
Figure out the best way to communicate your church's messaging to your existing and potential church members—that will impact which type of LED sign is the best fit for your needs. If you're looking to communicate simple lines of text to potential members, then a monochrome display will likely work best for your church. If you're looking to show great graphics that catch the eye and draw more attention, then you should consider a full color display. A full color display allows you to utilize colorful graphics and animations that take your display to the next level. Ultimately, there are multiple ways to get your message across to potential members and your community as a whole, and your LED sign budget will likely dictate which option is most feasible.
Knowing How Much to Budget for Your LED Sign
When it comes down to budgeting for an LED sign for your church, there is an average figure that we use to give you an idea of what an LED Sign costs. To give you a ballpark range, we recommend setting aside $15,000-35,000 for the entire project. But before you set aside the desired amount of money, be sure to thoroughly research and understand the LED sign installation process. Look at Where to Start with Buying LED Signs for Churches and Schools to understand what to expect. Although, the price range of an LED sign can be intimidating, know that financing and leasing options are available and are worth investigation due to the proven ROI of LED signs. It is important to understand your options before making this investment for your church.
If you're ready to learn more about an LED sign for your church, download our product catalog to see which options exist for your situation. Don't let the question of How much is an LED Sign prevent you from reaching out to EM Visual if you have any questions about LED sign prices and budget options.