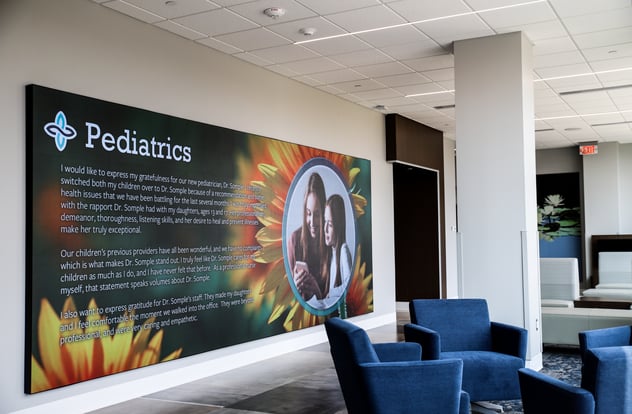 Every day, individuals and organizations generously donate to facilities that they believe in and want to see succeed. After making a donation, it is common for a facility to honor these donors somewhere on site. Typically, donors are recognized with standard wall plaques, or some other type of list that almost always go unseen and unnoticed.
Knox Community Hospital is a 99-bed, Joint Commission-accredited, community hospital located in Mount Vernon, OH approximately 40 miles northeast of Columbus. Before working with Electro-Matic, KCH used their displays to not only communicate information, but to also familiarize the community with their doctors. KCH was disappointed in the graphic quality of their existing displays, which provided grainy images and unrecognizable faces.
When Knox Community Hospital made plans to build a new 88,000-square-foot family care center called the Wright Family Medical Pavilion, they knew it was time to upgrade their displays where the quality could finally match their gratitude. Knox Hospital wanted to build a donor wall that would show their appreciation for the donors that contributed to the new facility. They wanted to share their donor's stories as well as their connection to the hospital. In recognition of the strong support of the Ariel Foundation for the Wright Family Medical Pavilion, and the expansion of services it will mean for the community, KCH were out for the best resolution display in the market place.
Benefits of New LED Display
After evaluating Knox Hospital's situation, Electro-Matic helped find the resolution that was right for them. With their goals in mind, Electro-Matic proposed its 1.9 mm 1152 x 3072, pixel high-resolution indoor display, which allows images to be vibrantly and clearly displayed from distances as close as six feet—perfect for visitors walking by. At just 1.5" thick, the frame-less display provided a clear and vibrant platform for visitors to learn more about the donors and their stories.
A high resolution interior display allowed the hospital to honor all of their donors—not just the few that could fit in the wall space. Although displays can be difficult to see in open foyer areas with many glass windows, ambient lighting doesn't stand a chance against Electro-Matic's superior LED display brightness levels. The display provides the opportunity to change content and share new information every month, week, or even day!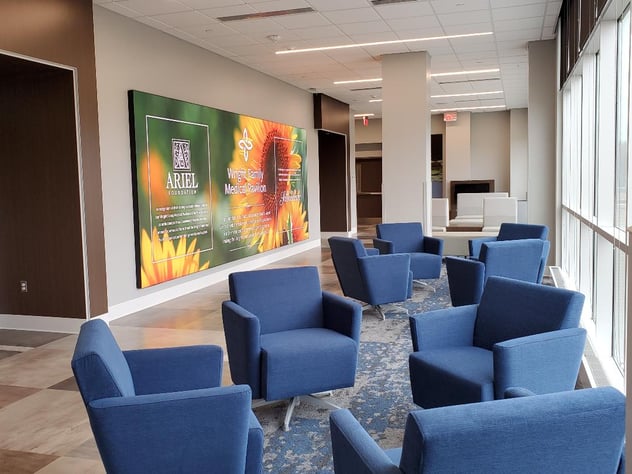 Products and services EM used:
1.9mm HS Interior Fusion Display