Building tenant teams up with Electro-Matic, Consumers Energy, and Michigan Saves to upgrade entire facility to LED lighting for NO ADDITIONAL OUT OF POCKET COSTS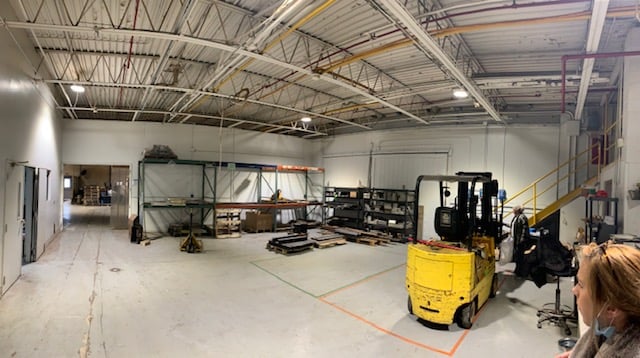 KPH Holdings owns 402 Haven St, a 64,000 square foot commercial space in Eaton Rapids. The building consists of a mix of office and industrial space. Kevin Hein was faced with two challenges at 402 Haven St. First, the entire building was filled with old inefficient lighting. Secondly, the building had very few tenants leaving Hein with lots of unused space. These two factors cost both him and his tenants enormous amount of money in utility costs. Because of the limited cash flow from lower occupancy and high energy costs Hein did not have available funds to invest in upgrading the lighting.
He was stuck in a situation many building owners find themselves. He knew if he updated the lighting and spaces he could attract new tenants and save money, but he didn't have the resources to do it, which kept him in common continuous cycle of doing nothing.
The office spaces consisted of 4-lamp T12 troffers while the industrial space was a mix of 2-lamp 8-foot T12 fixtures and 400w metal halide high bays. His parking lot also had a number of 400w metal halide fixtures. The result was a very inefficient building that was not a desirable space for prospective tenants. The goal for the project was to find a way to improve the lighting throughout the building without adding funds beyond the current cash flow, which would help keep current and attract new tenants.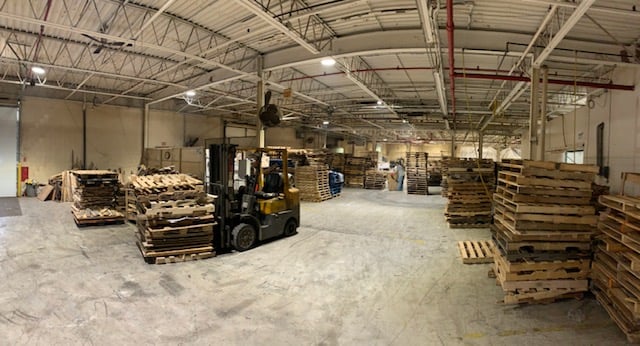 Kevin employed the help of Electro-Matic Visual to visit the building an offer a solution. Alan Nicholson from Electro-Matic enlisted the help of Consumers Energy to discuss rebates while Ascentium Capital discussed financing options. Together they recommending taking advantage of a program called Michigan Saves, which allows 0% interest financing for up to 36 months for energy efficiency projects.
Here's the breakdown Electro-Matic presented:
| | |
| --- | --- |
| Grand Total before rebate | $ 59,718.28 |
| Estimated | $ 23,826.90 |
| Grand Total Minus Rebate | $ 35,891.38 |
| Estimated Monthly Savings | $ 1,854.94 |
| Estimated Annual Savings | $ 22,259.28 |
| Estimated ROI | 1.61 |
What Electro-Matic found was Hein could use the Michigan Saves program to spread out his entire project cost and use his energy savings from the LED lighting to pay his Michigan Saves monthly payment, and STILL have $174 leftover EVERY MONTH compared to his original energy bill. After showing Kevin the data he immediately was on board and approved the project. On top of that, Kevin could use his Consumers Energy rebate (which actually ended up being over $24,000) to further invest in additional upgrades for his building.
Benefits:
As a result of the project Kevin has a remarkably better looking and more energy efficient building. Since completing his project his building is now nearly 100% occupied with 6 new tenants. Kevin was happy to take us on a tour of his building to snap some photos and share his thoughts:
"I am extremely pleased by the work of Alan Nicholson and Electro-Matic. His experience in the lighting field along with his connections with Consumers Energy and Michigan Saves were vital to the success of this project. I would recommend using Electro-Matic for any energy reduction projects and would not hesitate to use them again."
- Kevin Hein, KPH Holdings Inc President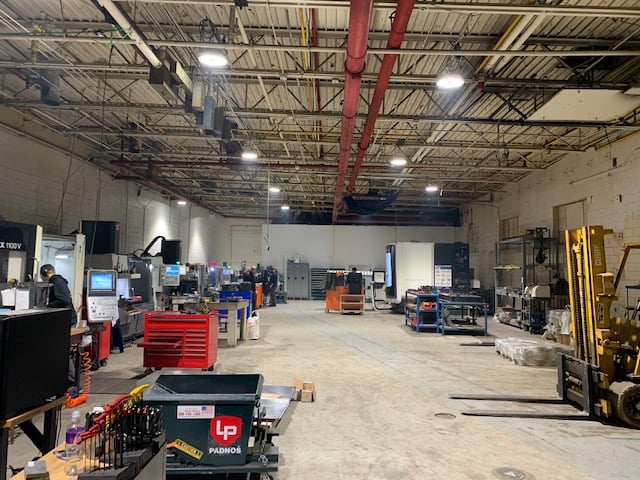 List products and services EM used:
136 36 watt 2x4 LED flat panels replacing 4-lamp T12 fixtures in office areas
150w LED high-bay fixtures replacing 400w metal halide fixtures
150w AP series parking lot lights replacing 400 watt metal halide area lights
60w AP series wallpacks replacing 250w metal halide wallpacks
"It was a pleasure working with Alan and Kevin on this project. It was a complete team effort by Consumers Energy, Electro-Matic, and Michigan Saves. We appreciate the support by trade allies like Electro-Matic to ensure the success and satisfaction of customers like Kevin."
- Mark Bates, Consumers Energy