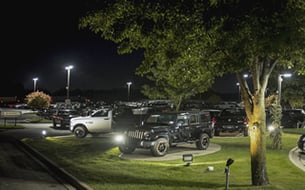 The benefits of a well-lit exterior are not at all a mystery. Serving as a deterrent to crime and injury prevention, in addition to offering better visibility and reduced liability, exterior lighting isn't something most businesses go without. However, you need to provide something more than just bare minimum lighting if you want customers to be able to evaluate your product in effective and desirable light.
This is where parking lot lighting becomes a necessity in enhancing curb appeal for your car dealership.
Which Lighting Technology Should You Use for Your Dealership's Parking Lot?
There are two types of lighting techniques commonly used in parking lot lighting design that you may come across when investigating lighting as an option for improving car dealership curb appeal:
HID Lighting: High intensity discharge lighting has been considered the "best-in-class" solution for years. It uses Metal Halide or High Pressure Sodium sources.
LED Lighting: LED lighting uses light emitting diodes. It is a relatively newer lighting technology that offers energy efficiency, uniformity, reduced maintenance, and a much longer lifetime.
Designing Your Dealership's Parking Lot Lighting to Enhance Curb appeal
There are two main criteria for designing parking lot light plans: minimum light level and uniformity ratio. Photometric reports are available on specification grade lighting products featured in most manufacturers product catalog sheets.
Request your free photometric analysis from Electro-Matic LED Lighting now.
These reports are used to predict how the light is likely to perform in a given application and will help you choose the right fixture based on your needs in terms of light distribution, efficiency of distribution, and likeliness of glare or unwanted patterns. If you're looking to improve your car dealership curb appeal, a photometric analysis is likely the first step to take.
Things to keep in mind with outdoor parking lot lighting design:
Illuminance (minimum light level and uniformity requirements)
Energy savings
Luminaire (complete electric light unit) layout
Maintenance
Optical control
Performance
Placement
Environmental friendliness
Intensity
Timing
Total cost of ownership
Good exterior lighting design for your car dealership will...
Promote safety through correct design and installation
Save money by utilizing energy efficient and cost effective lights
Conserve natural resources by avoiding inappropriate and excessive lighting that would otherwise waste resources and pollute air and water.
If you are not familiar or well-versed with the lighting industry or lighting technologies, speaking with a professional about a lighting design is highly recommended.
When considering a new lighting design for your car dealership parking lot, you want to ensure that the new light plan will boost your curb appeal. To do this and make sure you are following any lighting regulations while getting the most bang for your buck, and seeking out guidance from a lighting professional is crucial.