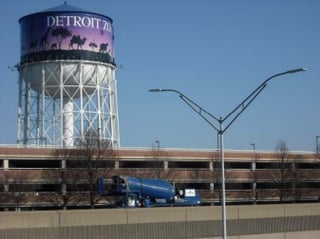 Electro-Matic Products, Inc., a key provider of Solid State LED lighting solutions to the U.S. marketplace, announced the successful installation of their AP Series Solid State LED along Interstate 696 in Michigan.
Michigan Department of Transportation (MDOT) contracted Rauhorn Electric, MACOMB TWP., MI. to install 350 AP Series Solid State LED luminaries by Electro-Matic Products, Inc. The fixtures replaced 400-watt high-pressure sodium fixtures along the median of Interstate 696 between Interstate 75 and Lasher Rd.
A total of eight miles of roadway way was converted to the energy efficient lighting. MDOT expects up to a 50% reduction in energy consumption along with improved light uniformity, less light pollution and a significant maintenance reduction. Compared to high-pressure sodium the white light that the Electro-Matic AP Series LED product produces provides a perceived improvement of brightness even though the light level is equal.
Rauhorn Electric, Inc. was incorporated in 1980, and is family owned and operated. The Company has grown to become a substantial union electrical contracting firm in the Metro Detroit area. Their experience has allowed them to become a pre-qualified contractor with the Michigan Department of Transportation and DTE Energy. Rauhorn specializes in traffic signals, street lighting, traffic control and monitoring system installations and high mast lighting for roadways, parking lots and airports. In the last few years, Rauhorn has expanded its areas of service to include electrical infrastructure installation in the mid-west.