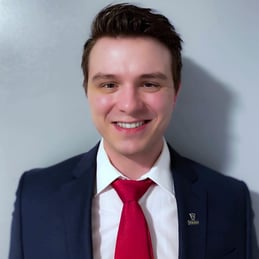 We want you to get to know Electro-Matic Visual Team member, Cody Popovich!
Cody grew up in the rural area of LaSalle, MI and attended the University of Toledo College of Engineering where he received his Bachelor of Science Degree in Mechanical Engineering Technology with a focus in product design and development.
In December of 2021, Cody started working at Electro-Matic Visual as a Mechanical Design Engineer where he was first tasked with redesigning the ventilation system for the Fusion Model Displays. He then went and got certified as an UL Manufacturer Technical Representative & ISO 9001:2015 Internal Auditor. He designed the SMD Series Displays/re-designed the factory shop drawings to help help simplify everyone's workflow and make them more consistent. In December of 2022, Cody got the SMD Display Series UL-48 certified and took on the role as Safety Team Leader for the EM Visual Building for all three internal departments.
Job Title and Responsibilities
Design of LED Displays & associated Cabinet Frames
R&D of special products and components
Design custom parts to meet customer wants/requirements
CAD Library Standards &Coordination
ISO 9001:2015 Certified Internal Auditor
UL-48 Certified Manufacturer Technical Representative & UL project File Coordinator
SunSource Safety Team Leader for EM Visual Departments
Cody enjoys golfing and being outside to hunt, hike, and explore what is around him. Whenever he gets free time, he enjoys going up north and spending time with family at their lake house to relax and fish.