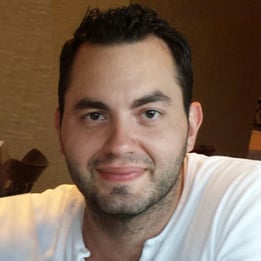 We want you to get to know Electro-Matic Visual Team member, Paul Jacob!
Where did you grow up?
Farmington Hills, MI
Where did you go to school?
North Farmington High School

How did you start working at Electro-Matic?
Directly after High School I started working in electronics and metal recycling, eventually starting my own company in 2012. During that time, I was able to work with and build relationships with a few people at EM Integrated, helping them recycle metals and repurpose surplus electronic equipment. When presented the opportunity, I was excited to join the Visual team.
What is you job title and what are your responsibilities?
Operations Manager: My responsibilities are to supervise all administrative and production staff activities, ensuring product is manufactured and assembled correctly, in a cost effective, timely manner.
Fun fact/hobby(ies):
I love to spend time with my wife and (2) children. Still a scrap enthusiast. Still very passionate about computers and electronics. I also love golfing, fishing, and cooking as much as possible.