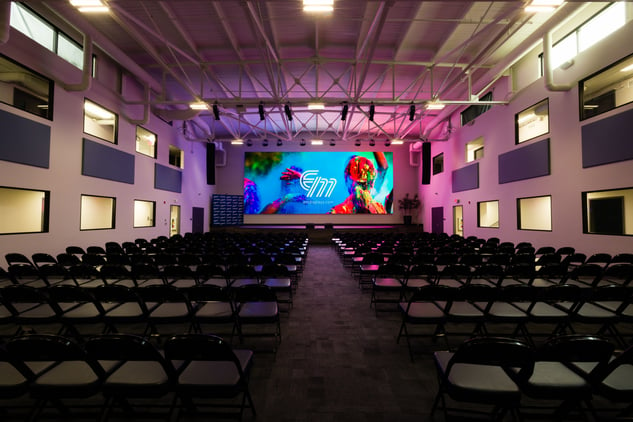 Meyer Foods is dedicated to being the world's premier provider of premium protein-based natural foods. They offer wholesome, innovative, value conscious product solutions for consumers while adhering to the highest standards of ethical conduct.
Jeff Meyer, president of Meyer Foods, owner and operator of area Culver's restaurants as well as a few Napa Auto Parts, saw an opportunity to purchase the Noblesville Boys & Girls Club building to build a new home for the Meyer Foods corporate headquarters. "Inside, the renovated space houses Meyer Foods offices, an event center and a shared workspace. Employees and tenants have access to amenities like pickleball, tennis, volleyball and basketball courts, plus a fitness and weight room. An area for gamers and a massage chair are available. The auditorium can house a live band and silent auction, and is spacious enough for large fundraisers. A kitchen with restaurant equipment, and all that's needed to cater an event, is on-site," (Julie Yates, Meyer Foods Gets Unique New Headquarters). In order to successfully host these events, they wanted a large LED video wall to be installed.
Meyer has been a long time customer of Electro-Matic Visual purchasing outdoor LED signs for their other business. Knowing our extensive experience in the industry and our track record, they came for us for their interior video wall.
They wanted to go as big as he could while keeping in HD ratio. Electro-Matic followed our Turnkey Solution process to determine the correct size for the event space. It was determined that a 14 x 35 foot, 2.4 mm interior video wall. In addition to the sizing evaluation, we also had to provide audio for the indoor LED display—an uncommon requirement for most of our projects. We partner with an audio visual company in order to provide all those solutions.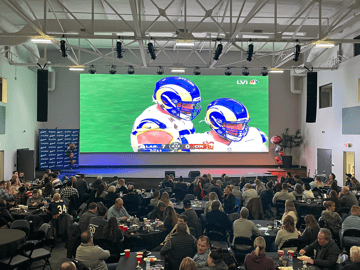 Since the installation four months ago, Meyer has hosted a grand opening event, as well as host community leaders to watch college football games. They couldn't be more thrilled with the results.
"I absolutely love our new video wall. It's exactly what I envisioned, and serves its purpose perfectly."
— Jeff Meyer, President of Meyer Foods.
After working with us over several months, Meyer Foods asked EM Visual to set up web conferencing capabilities in five rooms to optimize training sessions and conferencing with their other locations across the United States. Each room is all-video enabled, and works with multiple video conferencing platforms and multiple video presentation modes. In addition to the full-video conference and presentation capabilities, each room includes a tracking camera that can follow the presenter in real time.