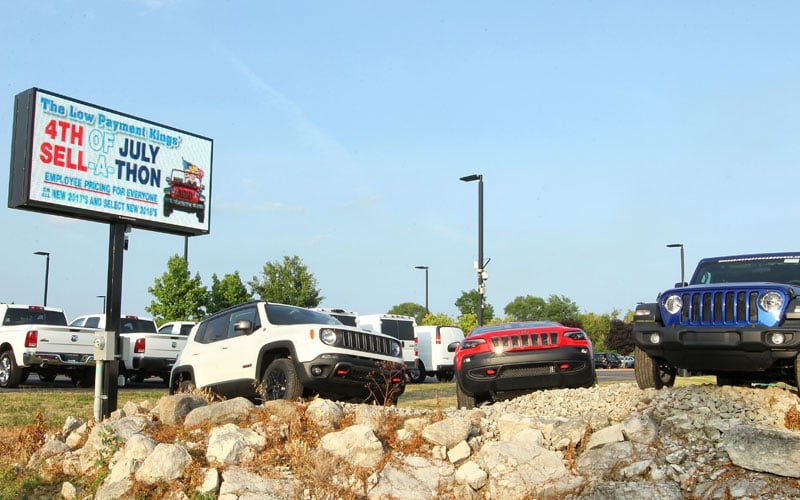 Monroe Dodge Chrysler Jeep Ram Superstore, has been a family owned and operated auto dealership since 1966. Since their dealership is located on a busy street, with a lot of traffic, they wanted to take advantage of their location so they decided to explore the process of adding an LED sign to their current signage at the location. A couple of challenge's they came to face were learning that they had to rezone some of their property to allow for additional signage, as well as wait for the city of Monroe to lift their ban on LED signage.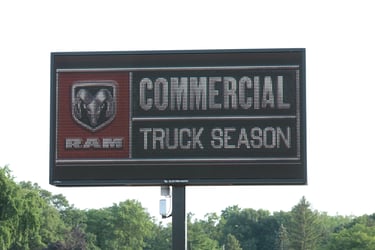 Electro-Matic Visual wanted to make sure their new LED sign was clearly visible to the traffic passing by, so we, along with Mr LED proposed a 5x10' pole sign, 20' off the ground, for the best visibility and solution for their location.
This was no ordinary project for Electro-Matic Visual, or Mr LED:
"I've had the pleasure of working with Mike Richardson, from Mr. LED on a number of projects over the years, few have required as much leg work as Monroe Dodge. Mike was at the fore-front as the sign code changed to allow LED Displays, but in this case, the project also required some rezoning processes to allow additional signage. Mike handled it all with expertise and helped the dealership owner throughout the process." Jason Sluyter
This sign is now proudly advertising offers by both the new and used car businesses at this location, as well as the service department specials they run. This new 16mm, double sided Fusion LED Display, allows for the messaging to be eye-catching and easily changed as often as they would like, making customers feel they are always seeing something new.
If you are interested in seeing what an LED upgrade can do for your facility, please contact Electro-Matic Visual at 616-250-4502 calculate your own ROI with our
ROI calculator
or visit our website:
visual.electro-matic.com