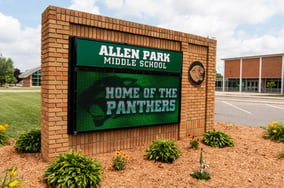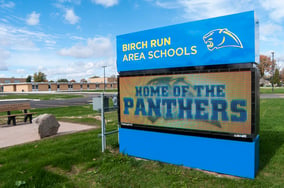 Every year around this time we start to see ads for "back-to-school" sales on practically everything a student can wear or carry. But what are schools doing to prepare for the onslaught? For us at Electro-Matic, "back-to-school" means a lot of dates, times, activities, locations and reminders---just the kind of information ideally displayed on LED digital message centers where lots of people will be passing by.
Programmable LED digital signs are perfect for schools. Many of today's digital message centers are quite attractive and are easily built into existing hardscape signage to preserve the exterior aesthetics of your school's campus. With the right size and pixel count, you can get high resolution full-color LED imagery with video, graphics and animation that almost anyone can program. Welcome the new students and parents. Display late-breaking news of changes or cancellations. Remind everyone that the first home football game is Friday night at 7:30 and where to get theater tickets for next week's show in the auditorium. Scroll of items of interest from various school clubs. Most schools strive to be a source of community engagement by hosting various programs and events. Digital LED signs and content management actually turn your school into a community resource just by displaying program information, alerts and civic announcements for all to see.
Inside, smaller scrolling message boards in the classroom or the cafeteria are the perfect way to discreetly publish reminders, school news and timely midday announcements. Even these smaller signs can display high quality images, such as school logos or mascot graphics.
School administrators and board members can also factor into their decision-making the low-cost of ownership and the sustainability of LED signs and lighting. The LED visual products Electro-Matic manufactures will last a very long time with almost no maintenance. With low energy consumption and almost no waste product or service footprint, you get a very effective, vibrant and versatile communication medium that is financially and environmentally sustainable.