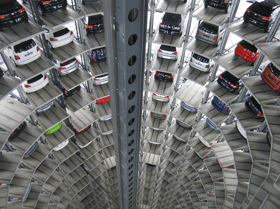 When considering an LED lighting upgrade for an existing parking lot, the options probably seem endless. The starting point though is to ask yourself if the better option is to either replace the all of the parking lot fixtures or simply retrofit existing fixtures with LED bulbs? Keep reading to understand how to retrofit LED lights for parking lots.
Replacing Parking Lot Lighting Fixtures
Replacing the entire fixture of your parking lot lights should be your first option. If financially friendly, using a fixture designed to handle LED technology ensures proper heat dissipation, higher measured lumen output, along with an overall more modern look. Installation time can also be shortened with the old fixture sliding off and the new fixture sliding into its place.
Retrofitting with LED Hardware
Understandably, it is not always feasible to replace the existing fixtures of your parking lot lights. This is typically due to financial restrictions or overall aesthetics the owner is trying to maintain. In these cases, retrofitting the existing fixture with new LED hardware is the best. Retrofitting a bulb is more complicated than just unscrewing the old and screwing in a new LED bulb. The existing fixture will typically need to be pulled apart and the ballast replaced with the LED driver. In some cases the existing socket can be used, but if not it will also have to be rewired.
Considerations when Planning to Retrofit LED Lights
Despite the lower cost of retrofitting LED lights in your parking, there are a few elements to consider in your plan. Older, high intensity discharge fixtures do not dissipate heat efficiently enough for LED retrofits. This often leads to LED manufacturers adding fans inside the LED bulb, which is another step in the process. Controlling the light coming out of the LED parking lot fixtures can also become more of a challenge—switching from an omni-directional HID lamp to a directional LED bulb may not allow the current fixture reflector to not work as well. This makes knowing how the fixture is going to perform prior to installation nearly impossible.
There have been a lot of improvements in the LED bulb retrofit market over the past few years. Manufactures have started to understand that their previous corn cob style light didn't perform necessarily the best in every situation. This has led to a different type of bulb for almost every type of situation.
When making the decision on replacing or retrofitting LED lights, the best LED solution involves more than simply the cost of the materials. The additional labor, shorter lifespan and installed performance should all be key parts of the decision making process when evaluating how to retrofit LED lights for your parking lot.
For more information on LED Parking Lot Retrofitting please visit our LED Parking Lot Lighting page.