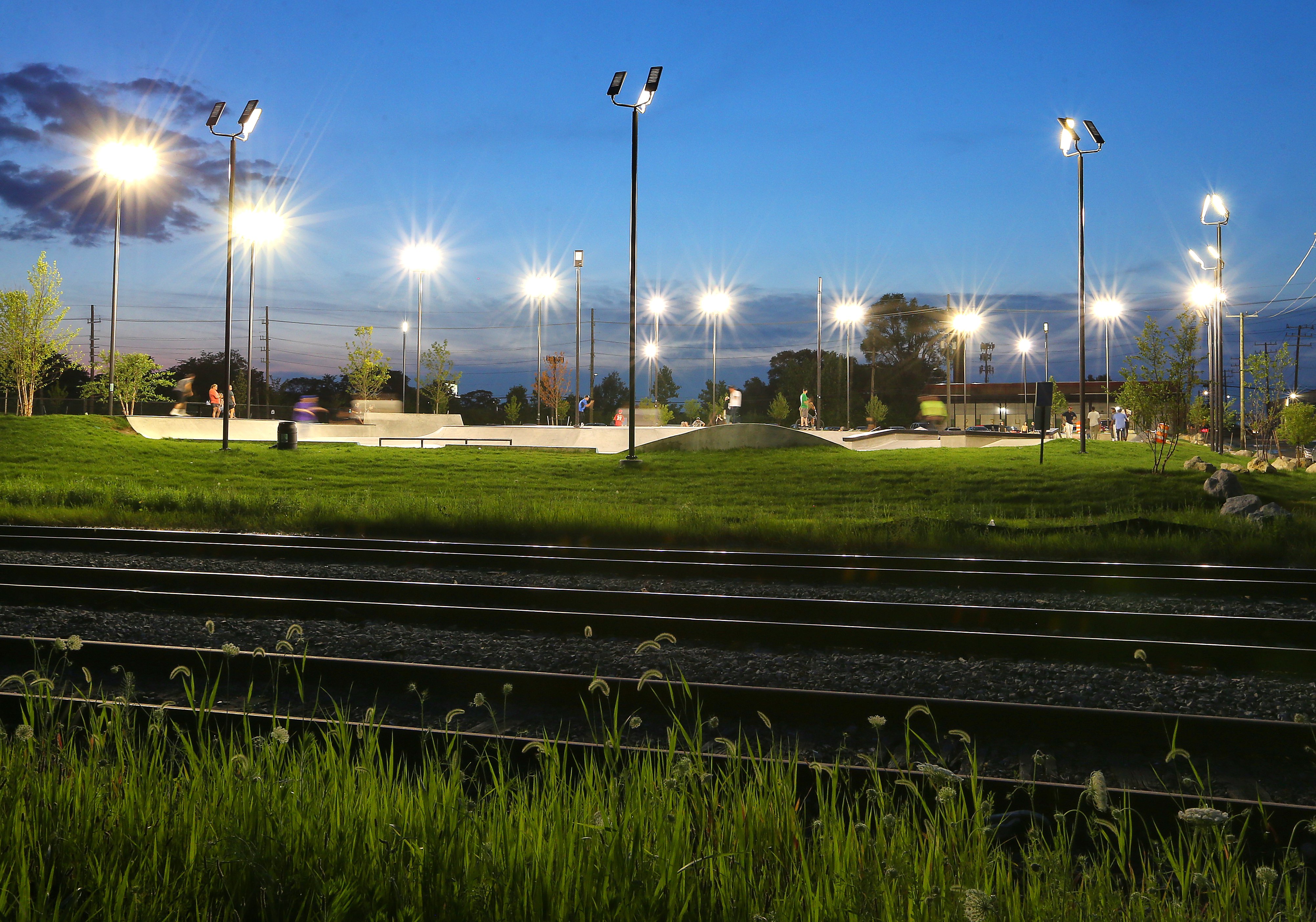 Through a collaboration of the city of Detroit, Ralph C. Wilson Foundation's Built to Play Initiative, and Tony Hawk foundations, Riverside Park was able to open a 15,000-square-foot skatepark in southwest Detroit with upgraded LED outdoor lighting.
An $800,000 skatepark was the cornerstone of the City of Detroit's plan to revitalize its largely unused property near the foot of the Ambassador Bridge. It needed to be illuminated for nighttime use, which added a significant level of complexity to the project.
Due to its diverse expertise in LED technology and its reputation for manufacturing robust, industrial grade LED fixtures, Electro-Matic Visual was asked to participate in the lighting design process for the skatepark from the program's onset. The company worked hand-in-hand with the City of Detroit, KEO, Smith Group JJR, and Power Lighting & Technical Services Inc. to create a rider-friendly, safe, and cost-effective plan to light the park.
Outdoor Lighting Project Objectives
Electro-Matic Visual engineered the photo-metric map based on its hardened AP Series outdoor luminaires. Other fixtures were considered for this project, but the nature of the skatepark application demanded lighting with best-in-class optics, color rendering, surge protection, and serviceability.
Ultimately, Electro-Matic Visual supplied fixtures, mounting brackets, and poles to KEO for the skatepark, and the installation was accomplished without issue.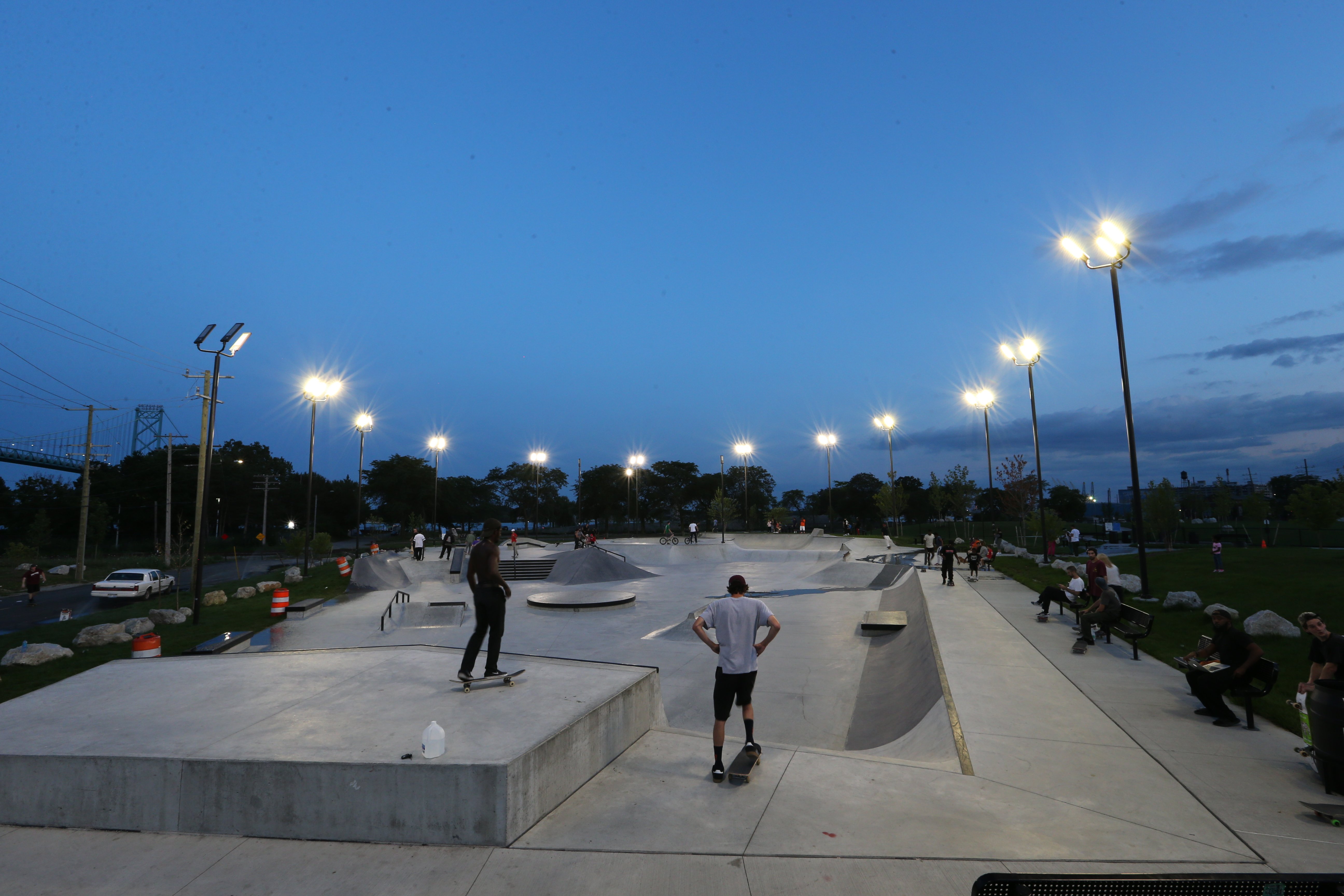 Choosing the Right LED Outdoor Lighting
Designing the lighting for a traditional park, parking lot, or roadway is a technical but fairly straightforward activity. Generally, the light levels required for the specific application are established to meet standards of the Illuminating Engineering Society of North America (IESNA). Minimum foot candles are specified, as are ratios such as average-to-minimum and maximum-to-minimum. All of this is driven by the type and use of the property that is being lit up.
A photo-metric map is then created for the property through computer modeling. Factors such as number and direction of fixtures per pole, fixture brightness in watts, mounting/pole location and height, and fixture "optics" – how the light delivered by the fixture is distributed – are generated.
Because every LED luminaire has its own lighting characteristics (IES Files), the map that is produced is highly dependent on the fixtures chosen by the lighting designer.
The design process becomes much more complex for skateparks. Bowls and concavities must be taken into consideration with 3-dimensional mapping to avoid shadows and hot spots, or, lighting imperfections that could result in an unsafe riding environment.
Benefits of Outdoor Lighting Project
An improperly illuminated skate park is unusable at night. It's critical that the park is lighted, and that it is lighted properly for the safety of its patrons. Electro-Matic Visual's comprehensive design of the lighting solution, and its timely and cost-effective supply of product, enabled the City of Detroit to include a world-class skatepark in its portfolio of new downtown attractions.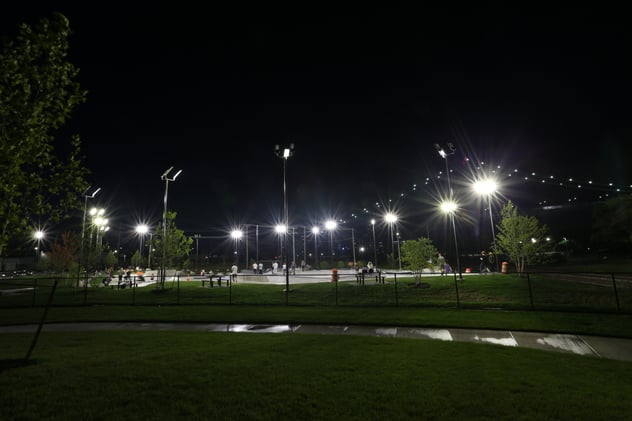 Contributors to Outdoor LED Lighting Project
Tim Karl held ultimate responsibility for the success of the Riverside Park project for the City of Detroit. John De Ruiter was on Tim's staff and was most involved in the day-to-day management of the initiative.
Martin Paris is a trusted consultant to, and advisor of, Detroit General Services Administration and was asked to recommend a provider of high quality LED fixtures and lighting design services. Based on Martin's prior experience with Electro-Matic Visual spanning multiple projects, he was directly responsible for orchestrating Electro-Matic's early-on participation in the planning discussions for the park project.
KEO & Associates, ultimately chosen through the bidding process as prime contractor for Riverside Park, was initially engaged in plenary discussions among the City of Detroit, Power Lighting & Technical Services, Grindline Skate Parks, Inc., and Electro-Matic, to help ensure the City considered and addressed all elements of the construction project. KEO was represented by Michelangelo Cereghino, General Manager, who was ultimately responsible for the success of the program. Donnell Clayton, Project Superintendent, managed the project on the field and oversaw all day-to-day operations. KEO was Electro-Matic's direct customer.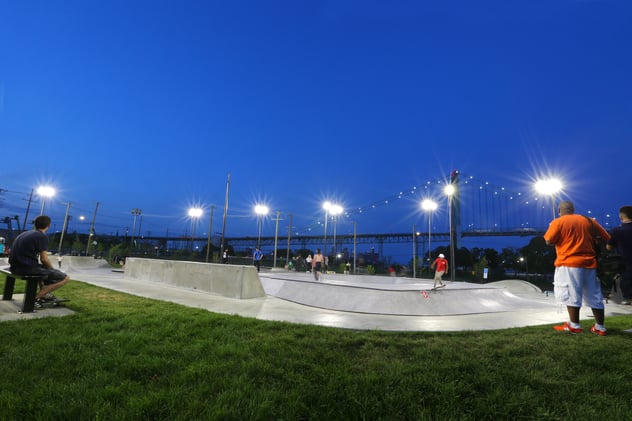 "Electro-Matic Visual was instrumental in designing the lighting solution for the City of Detroit's Riverside Park Skatepark. From the very first design meeting, at which Jeff demonstrated their AP series fixture, we knew we wanted to incorporate their luminaires as part of the overall solution. EM delivered lights, poles, and brackets on-time and without issue."

- Michelangelo Cereghino, Director of Construction, KEO & Associates, Inc.


"The City of Detroit is truly enjoying a renaissance. There is an abundance of new commercial and residential construction across the City. Every day brings new homeowners and renters to our fabulous city, and it is important that the parks that serve them are functional, clean, and attractive. Riverside Park is one of the most loved and well used in our portfolio of properties, and the skatepark is the centerpiece of Riverside Park. It was critical that the skatepark be properly illuminated for the safety of our riders … Electro-Matic Visual did not disappoint."

- John DeRuiter, City of Detroit Landscape Architect