A customer needed an employee messaging system outside of their manufacturing plants around the world. They needed a simple system that could be utilized worldwide at their 22 sites, yet accessible from their corporate offices in the USA.
One of the Hyperion elite dealers was able to bring this idea to life. Hyperion LED displays of Electro-Matic Products, Inc. have been recognized as having high quality and being customizable for customers needs. This dealer was able to marry the Hyperion 25 mm full color display and a 16 mm combination full color and red display to provide the company with an employee quality and safety monument sign.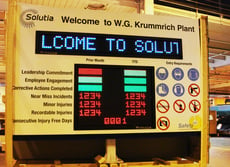 The display will be installed outdoors with indication of employee engagement, corrective actions completed, and injuries tracking. The installation is expected to increase factory safety and employee awareness. Electro-Matic's customer will be installing the first LED display in Indiana and the rest in its facilities around the world.
Check out the LED display to see how Electro-Matic Products, Inc.'s integrity and willingness to look at customizing a solution can win orders for our dealers.