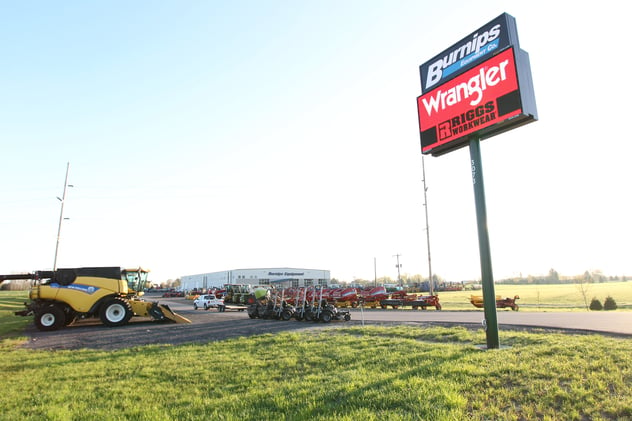 Burnips Equipment Co. has five different locations throughout the state of Michigan. Their newest store home of Dorr, MI has an extensive line of products that customers can buy new, used or rent. Their new opening and deep line of product offerings and options, makes implementing an LED sign complementary to their business.
Praise Sign Company, Burnips Equipment Co. and Electro-Matic Visual collaborated to make this great LED display application happen. "
It has been a great experience working with Alan the West Michigan rep for Electro-Matic visual. A great big thank you for all the help you've provided for this Burnips project. Without you this would not have been so successful. Your products, service, and followthrough are top notch." - Robert Prindle, Praise Sign Company
With their newly installed LED sign they are able to inform passing traffic about their newest products that they just got in and are running a limited time special. Passing by Burnips Equipment you may not be able to tell that they offer rental equipment. With their new LED display they can make it known they do offer rental equipment, so you don't have to buy equipment for a one-time job.
Purchasing a new tractor is like buying a car. It can be expensive, but you have options and just like a car you can buy it new or used and have financing available. Burnips now has the flexibility to advertise their financing options on their LED display. This will help them give exposure to the numerous options available to customers when buying new products at Burnips.