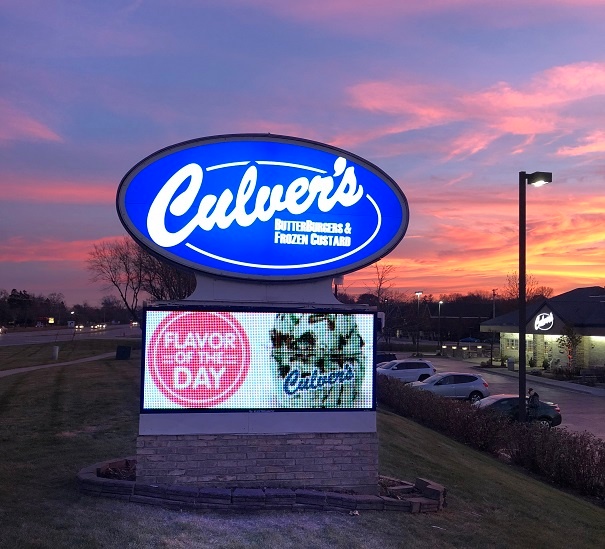 Culver's is a well-known restaurant that is especially popular in the Midwest with the original location residing in Wisconsin. Culver's now has 649 locations around the United States. The Culver's in Lake Zurich, IL wanted to add an LED sign and looked to Electro-Matic Visual to provide the solution.

Electro-Matic Visual has provided over 100 LED sign solutions for Culver's restaurants across the mid-west, making Electro-Matic Visual the best fit for the Culver's of Lake Zurich. A 16mm Fusion full color LED display was installed for Culver's of Lake Zurich to promote their delicious "flavor of the day" custards, pressed and seared Butterburgers, premium chicken and other mouth watering deals.

The Culver's of Lake Zurich will not only get to enjoy their new eye-catching LED display, but they will also take advantage of Electro-Matic Visual's Media Services Library that is full of pre-made content. The Media Services Library gives LED sign owners the luxury of having free compelling content on their sign at their luxury.

Culver's has many different promotions that would take a large amount of energy and time to promote in traditional ways. Now the Culver's of Lake Zurich, with their new LED sign, will be able to easily promote their great tasting deals at the pace that they require.