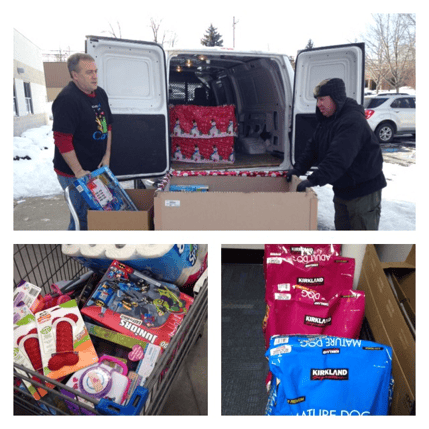 On behalf of the Holiday Charity Team we would like to thank all Electro-Matic employees for the donations to our two charities. This year we had donations for Farmington Area Good Fellows and the Detroit Dog Rescue.
All donations have been delivered and will be distributed by each organization.
GoodFellows: Is distributing to over 140 families this year and had an out pouring of volunteers to sort and deliver all the donations they received in. Electro-Matic delivered toys, clothes, books, food, supplies, gift cards and shopped with cash donations to help fill the wish lists.
Detroit Dog Rescue
: DDR was opened in 2014 with the goal helping and limiting stray dogs in the Detroit area. This non-profit organization focuses on improving the life of these stray dogs.
Electro-Matic filled the lobby of one of DDR's drop off sites with Food, supplies, treats and bones to make sure these dogs were taken care of this winter.
THANK YOU to all who donated and know that all your efforts go directly to these two charities.
Special thanks to Ellen Mengel, Dan Lemon, Tim Pochik, Morgan Watler, RoseMarie Ollikainen, and Jeni Gohl for all your assistance in collections, organization, shopping, deliveries and distribution of the donations.