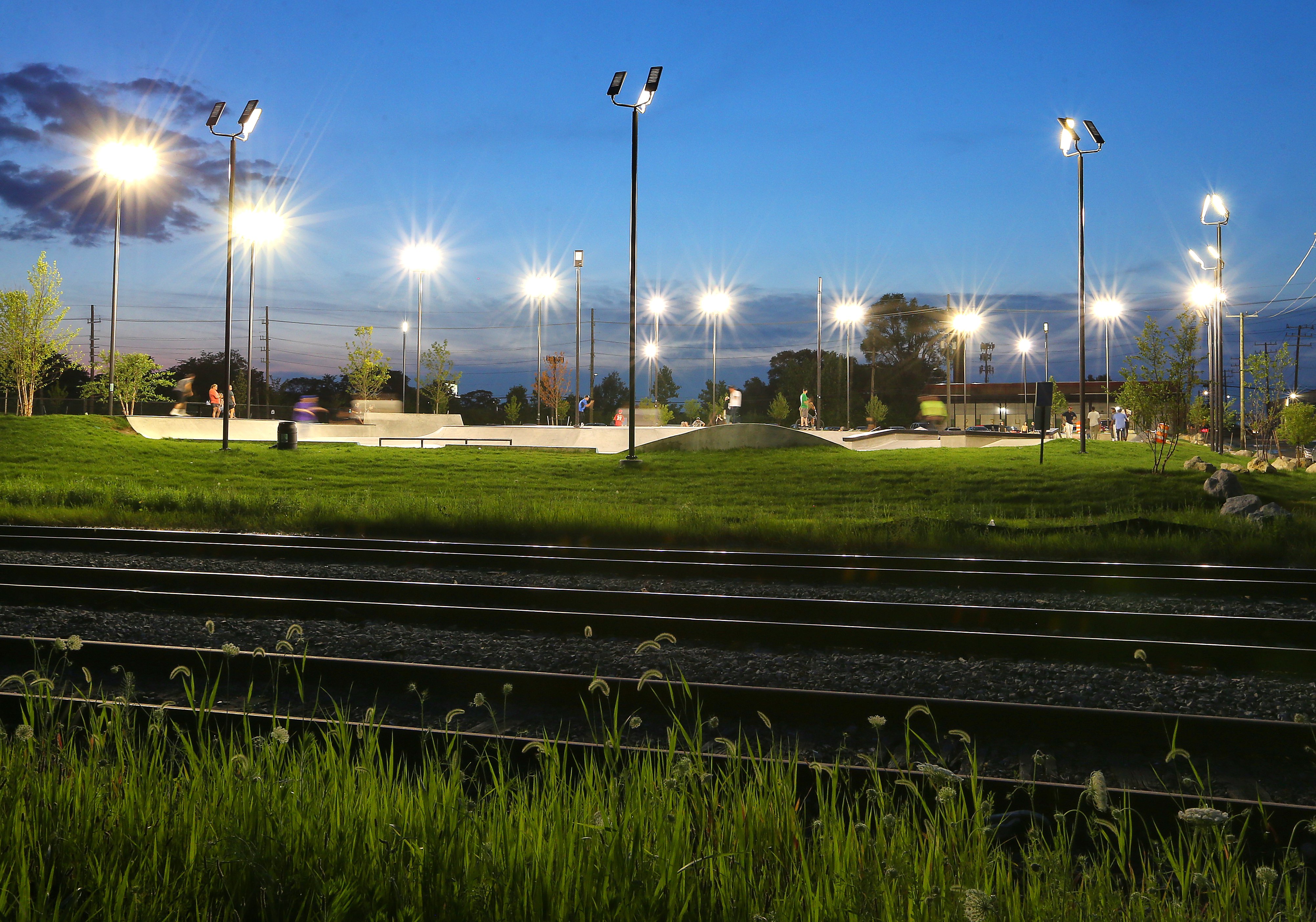 One of the major benefits of having LED outdoor landscape lighting is enhancing safety. Public parks need to maintain a good lighting level at night to prevent crime and reduce accidents for pedestrians. Well-lit parks and recreational areas give people a sense of security and confidence when they step out after sundown, enhancing people's perception of safety and boost park visitation. LED outdoor landscape lighting systems will improve usability as well as the aesthetics of the area. Evenly spaced, bright lighting allows daytime activities to extend into the evening hours such as sports, walking, bicycling, and cookouts. An overall increase in lighting for public parks is beneficial to the overall environment by daunting crime and encouraging after-dark community activities.
How to Use LED Outdoor Landscape Lighting to Keep Public Parks Safe
Aside from improved safety, LED lights are also cost-efficient and save energy. The LED light uses 40 to 600 watts of electricity on average. When switching to LED lighting, there is a reduction in energy consumption by 40%-60%.
Play Areas
Playgrounds need to have high safety and security to give parents peace of mind. A well-lit public playground can extend playtime throughout the year, even during the fall and winter seasons when it gets dark early due to the end of daylight savings. LED playground lighting fixtures offer intense illumination that will keep the playground equipment and all surrounding areas illuminated efficiently that will allow everything to be seen. Hazards are more likely to occur in play areas and appropriate lighting decreases the chances of children getting hurt. A quality playground lighting system will give off proper illumination all throughout the night, or until the playground closes.
Walkways and Bicycle Trails
Walkways and biking trails should always be properly illuminated to improve safety and security. LED outdoor landscape lighting not only makes people feel safe as they take their evening walk or ride their bicycles, it also changes the look of the space and enhances the aesthetics. LED lights can highlight focal points such as water fountains and trees. Steps, ramps, and places with height differences can be well-lit so people can easily see them. The lighting fixtures should be shorter and closer together then streetlamps. They must be of an appropriate scale for the trail's users while still providing an appropriate amount of horizontal and vertical clearance. When LED lights are installed in pathways and trails, they provide the best safety, enjoyment, and comfort for people visiting the park.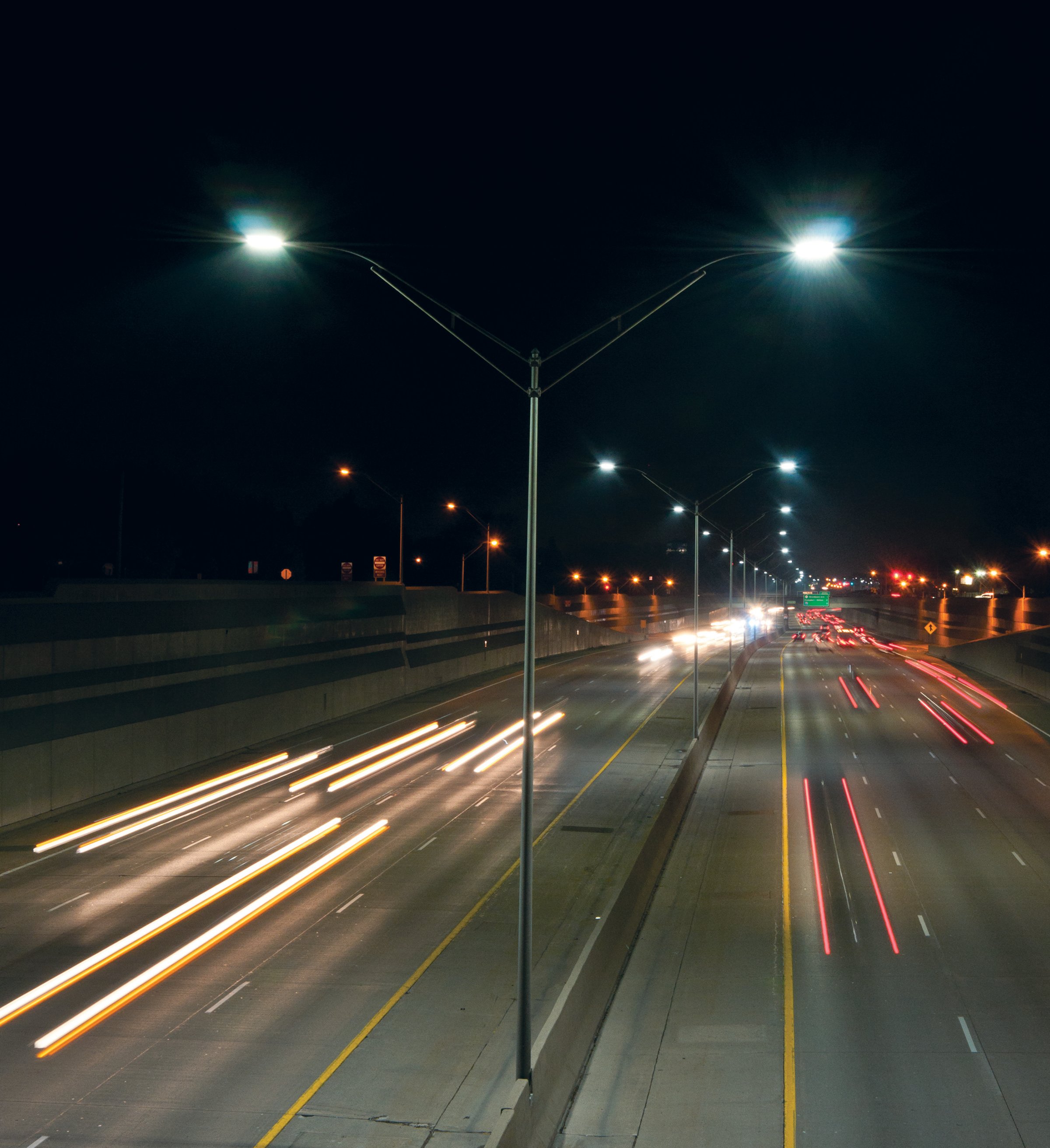 Parking Lots
During the day, parking lots are usually well lit by natural light. However, when nighttime comes, proper lighting is what determines if a parking lot is safe and if there is clear visibility. People typically avoid poor-lit parking lots at night because they don't feel safe from potential crime. In addition, if the lights are not bright enough, security cameras are unable to capture all the surveillance in a parking lot. Accidents may also occur because drivers are unable to see clearly. Officials for public parks and recreational areas should consider installing lighting that is bright and also cost-effective in car parks. Unlike HID lighting, which only focuses on one spot and causes uneven lighting, LED lighting is directional. LED lights can also be "aimed", directing a higher amount of primary light to a targeted area. This allows even light distribution, eliminating dark spots and gaps.
Sports Grounds
Players and athletes enjoy playing under bright, powerful lights. Each sporting activity usually has a main playing area where good light is crucial for the players to concentrate on the game. High-quality light with low glare is also important for spectators who come to see the game. Every sport that is played at night has its own lighting needs. For example, the light required in a tennis court differs from the light required in a basketball court. The sporting objects vary in size and players must clearly see the ball at all times. Lighting installed on a sports ground requires a high level of robustness and flexibility because training and competition need ideal lighting conditions. If the proper light fixtures are used, ideal visual conditions are guaranteed and chances of injury are minimized. The lights used should offer visual comfort, uniformity, and prevent obtrusive light.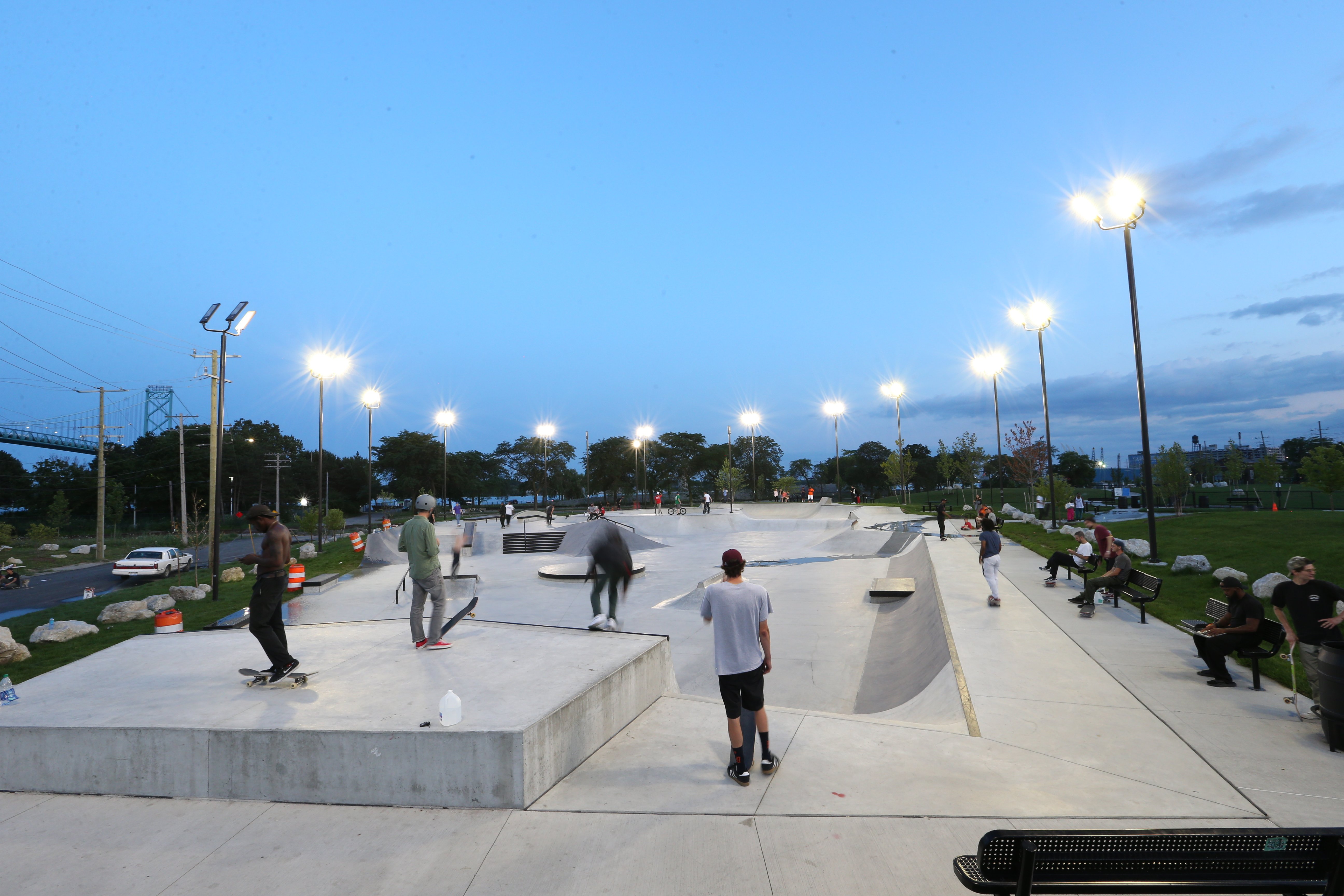 In a case study back in late September of 2019 showcased a collaboration with the city of Detroit, Ralph C Wilson Foundation's Built to Play initiative, and Tony Hawk Foundations to build a skate park with upgraded LED outdoor landscape lighting within Riverside Park in Southwestern Detroit. An $800,000 skate park was part of the City of Detroit's plan to revitalize its largely unused property near the bottom of the Ambassador Bridge. It needed to be lit for nighttime use. Electro-Matic Visual was asked to partake in the lighting design process for the skate park from the beginning of the program. The company partnered with the City of Detroit, KEO, Smith Group JJR, and Power Lighting & Technical Services Inc. to create a rider-friendly, safe, and cost-effective plan to light the park.
Aesthetics
The lighting design of a public park can embellish the park to make it look peaceful and inviting at night time. A lighting expert can make a customized lighting design and make use of special outdoor lighting effects and techniques to achieve steady brightness throughout the area. LED outdoor landscape lighting can also be used to illuminate high-activity areas and walkways so that they become the center of pedestrian activity after sunset. Well-designed lighting can improve the aesthetics of landmarks such as riverfronts, boardwalks, and promenades. The lights can make a beautiful ambiance to the nighttime look of the space. A couple of highlighting techniques for parks are:


Path Lighting
The most used technique of lighting a park. Alternate the lights on either side of a path and place them slightly apart from each other for greater visibility.


Wall Lighting
A technique where light is placed on the ground and geared toward a building wall to create a soft, gentle light.