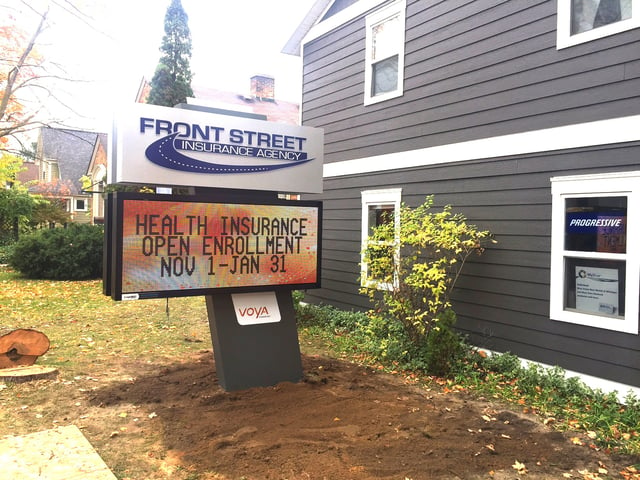 Front Street Insurance of Traverse City, MI was looking for a creative way to take advantage of being well traveled street just blocks from downtown Traverse City, MI. Front Street Insurance and Andrew Kohlmann, owner of Image360 of Traverse City, they concluded that an
LED message center
from Electro-Matic Visual would be best for this application because of the slow moving, high volume, traffic passing by and Electro-Matic Visual's dependable tech support and training team.
"Electro-Matic Visual's tech support team dealt directly with our end user and was able to have a person on-site to make installation and training go very smoothly for all involved."- Andrew Kohlmann, Owner, Image360 Traverse City
Front Street Insurance and Image360 evaluated many different options and specs before deciding to install the full color, high-resolution 10mm LED display. The reasoning to go with a high-resolution display was for a several different reasons. The first being is that it looks outstanding, even when you are close to the display. The second is because with the slow moving traffic, passing viewers will be able to read it clearer than a lower resolution display. And third, the full color high-resolution display draws the attention to the business and sign, acting like a personal billboard for their business.
Electro-Matic Visual is happy to see Front Street Insurance having success with their new full color, high-resolution LED display and taking advantage of their location to communicate to the slow moving high traffic street!