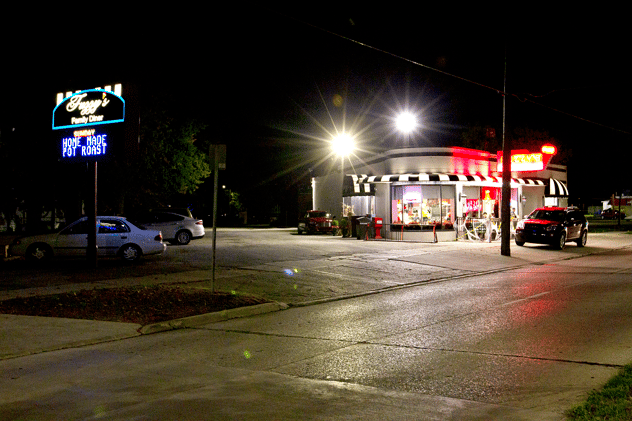 Fuzzy's Restaurant is our featured January lighting project, although it does have an Electro-Matic LED display out front as well. Fuzzy's has now become a landmark in Saginaw, MI because of the 10 years they have been serving their Johnny's Famous Rice Pudding, their memorable folded sandwiches and homemade cinnamon bread.
Fuzzy's is now equipped with 24 2x4 LED troffer lights, 1 2x2 LED troffer light, 8 LED Vapor Lights, and 4 LED AP Parking lot lights from Electro-Matic Visual. For a smaller building Fuzzy's definitely takes advantage of the wide variety of lighting products Electro-Matic Visual offers.
The best benefits that Fuzzy's see, after switching to LED lighting, is the amount of money that they save. "We save about $2,800 per year from switching to LED lighting and we have noticed the quality and how much more lit our restaurant is, inside and out"- Ellaine Tambouids, Fuzzy's Restaurant. In fact, Fuzzy's is seeing a lighting increase of 35% in and out of their restaurant.
If you would like to learn more about LED Lighting and how it can save you money try our
ROI calculator
or visit our website:
visual.electro-matic.com