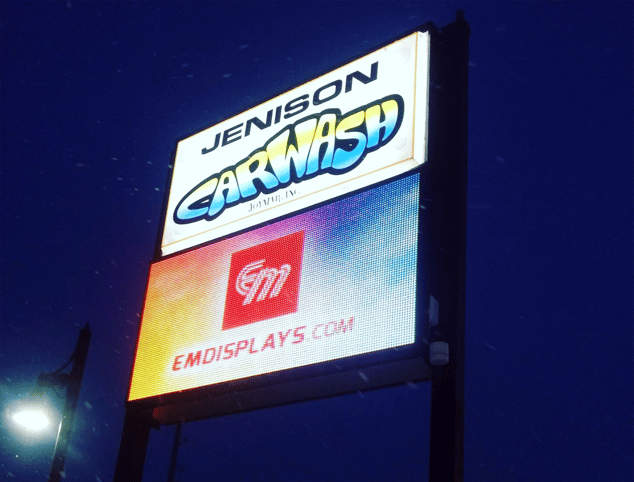 Joymar Inc. is the parent company to three different car washes in West Michigan. Featured in this success story is Jenison Car Wash, located in Jenison, MI and just south west of Grand Rapids. Jenison Car Wash and general manager Greg Russo, chose Electro-Matic Visual to add a
Fusion LED display
to consistently attract more customers and to stay competitive.
Jenison Car Wash believed that static signs and traditional reader boards, like they had before, was just too much of a nuisance and were not effective. Having an employee change a static sign daily, or weekly, is time consuming. Jenison was seeing that they were spending too much time manually changing their reader board for a message that was getting overlooked.
From a competitive standpoint, Jenison Car Wash felt that adding an Electro-Matic Visual Fusion LED display would separate them from potential competition. An LED sign gives businesses the opportunity to have an attractive, modern look while connecting with passing traffic.
Jenison Car Wash has been enjoying their new full color, 16mm, 4'x8', LED display and they have been seeing great results. Their three-month subscriptions and monthly memberships have seen a significant boost. They also advertised that they were hiring on their LED sign and got convincingly more applications when they tried the same thing with their old static reader board. Jenison Car Wash chose Electro-Matic Visual over the competition for several important reasons, including:
Customer service
Image quality
Five year parts and labor warranty
Because of what Electro-Matic Visual's provides and after the success that Jenison Car Wash has had with their LED display they are expecting to add one to their Cascade location.