In order for energy-savings companies to offer clients recommended energy-efficient measures, they must first have a basis of research for their recommendations. Follow this simple 10-step process to offer clients solid retrofit solutions.
1. Identify the right person at the company to work with, understand past energy efficiency initiatives (How many initiatives? What was approved and why? What prevented project approvals?). Understand clients' current efficiency initiatives and requirements, buying motives, funding situation, pains, and objectives for projects.
2. Survey the property site.
3. Obtain energy bills.
4. Know the local incentives and programs available to the client.
5. Have quality products available for recommendation, be able to provide lead times and explain your relationship with the vendor of choice.
6. Identify and recommend solutions.
7. Create a proposal that includes available incentive and finance options with details of what is provided, along with added benefits.
8. Provide a financial analysis that uses the right metrics in the right context.
9. Explain the implementation process.
10. Provide action statement.
Lighting upgrades tend to be the backbone of most commercial and industrial energy retrofit projects. There are varying ways to upgrade. They're categorized as GOOD, BETTER, and BEST practice.
GOOD Practice for Retrofit Solutions
Customer plans on keeping the fixture due to aesthetics, or requires self/easy install instructions, and must manage a budget-friendly type of project.
BETTER Practice for Retrofit Solutions
A combination of new LED luminaries with retrofit kits designed to use more efficient lamps (for example, fluorescent, CFL or LED) for existing fixtures. A client may have a preference to the aesthetics of a fixture or the fixture may be newer in age.
BEST Practice for Retrofit Solutions
In general, it is best to replace incandescent or HID products with luminaires that are designed for more efficient lamps (e.g. fluorescent, CFL or LED), rather than changing the lamp(s) within the existing luminaires. Utilizing luminaires not designed for specific light sources may result in poor optics and poor thermal conditions, which can impede performance and the life of the bulb and power source.
Top Five Lighting Retrofit Solutions
Replace Incandescent Lighting
A good first step to reducing lighting energy is to replace all incandescent light sources. Incandescent lighting is popular, but inefficient, as most energy is converted into heat rather than light and they do not last very long.
Incandescent luminaires that are ideal candidates for fluorescent lamps or LED luminaire retrofits:
Track Luminaires
Surface-mount Luminaires
Downlights or "Cans"
Portable luminaires
Exterior Luminaires
Exit Signs
Luminaires in Large and Open Offices or Classroom Spaces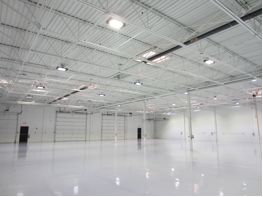 The following can be replaced with fluorescent or LED luminaires (BEST practice) or are ideal candidates for retrofitting to more efficient bulb type (BETTER practice):
Delamping

Daylighting
Adding more task lighting
Typical for these applications are ceiling mounted 1x2, 2x2 and 2x4 linear grid type luminaries.
When picking lamps, keep in mind T12 & T8 lamps have the same pin pattern, while T5 and high output (H.O.) lamps do not. It is also important to note that the lamp and the ballast must be electrically compatible. Ballast labels clearly indicate compatibility with specific lamps. This is another reason why using kits is the BETTER practice.
Exterior HID Luminaires

BEST practice in most exterior applications is to replace old, poor color rendering, higher wattage

high-pressure sodium (HPS) luminaires or metal halide (MH) with more efficient, smaller wattage LED luminaires.
Typical for these applications are wall pack, floodlights, parking lot pole lights, ground mount signs, building floods and bollard luminaires.
High Bay
Old, high-bay luminaires usually operate with high intensity discharge (HID) lamps. Typically, fluorescent technologies offer improved lumen maintenance, controllability, and color rendering over old HID technologies.
For high-bay applications, consider replacing HID high-bay luminaires with new LED luminaires designed for the application or linear LED high-bay luminaires. Not all of these solutions are a one-to-one replacement with high wattage HID luminaires. Compare the initial and maintained lumen output of both technologies to ensure similar light output.
Another solution is to use more workstation task LED lighting or machine LED lighting in the space for better light with less ambient requirement.
Lighting Controls
Intelligent lighting controls are by far the most compelling item on this list and hold the potential to do more than save energy. Companies are already seeing positive results of intelligent lighting controls. Top researchers such as Navigant are estimating that over the next seven years, annual sales for occupancy sensors, photo sensors, and lighting network gear (related to LED lighting applications) are expected to expand from $1.1 billion to $2.7 billion by the year 2020. LED lighting prices have been falling and in turn drive up the adoption rate of LED lamps and general lighting controls. Easy integration and great features such as controllability, dimmability, efficient, easy installation and implementation processes make them an attractive lighting choice. The technology for LED lighting keeps evolving and now lamps are even being sold with built-in controllability.