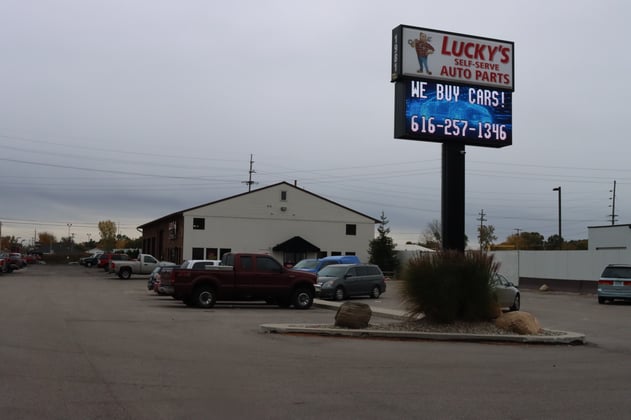 Lucky's Self-Serve Auto Parts is an automotive salvage yard where people who are hands on with their vehicles and want to be able to service them themselves can come pull their own parts from over 2,000 cars.
Lucky's was opening a brand new location and wanted to make a strong impression on Alpine Ave, a busy road in Grand Rapids. They wanted to promote the different warranties they provide, how many vehicles they have, the ability to sell parts to them, and all the other services they provide that a lot of people driving by aren't aware of. They decided a digital sign was the best way to do this, not only because it is the most eye-catching, but because they can change their messaging and content so easily, and frequently.
Appearance Products Inc. in Grand Rapids, MI is a one stop shop for all commercial business signage. Their professional sign design and sign fabrication allows them to stream line the entire sign process, ensuring quick and on budget delivery that leaves customers highly satisfied. Together, Electro-Matic Visual and Appearance Products Inc. provided Lucky's with an LED sign perfect for all of their needs.