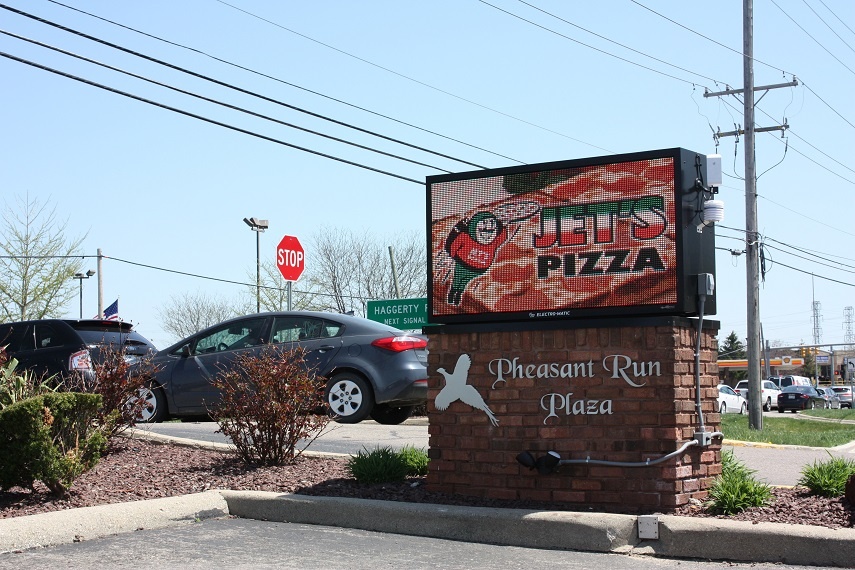 Pheasant Run Plaza in Farmington Hills, MI resides on a high traffic street making it an ideal candidate for an LED sign. The plaza has a great balance and is home to several big chain restaurants and other local business and restaurants and made a perfect fit for installing an 16mm Fusion LED display.

Electro-Matic Visual and Image 360 of Brighton made this project become possible. Image 360 approached Electro-Matic Visual for the Pheasant Run Plaza and choose their new Fusion LED sign because of quality, warranty and service. "We decided to use an Electro-Matic Visual LED display because we know that we are getting great service, quality and warranty, that's what keeps us coming back." - Joe Nagel, Image 360 of Brighton

Before the new LED sign was installed, Pheasant Run Plaza had a static sign that could only advertise the name of the plaza. Now with their new Fusion LED Sign from Electro-Matic Visual they can inform the passing traffic about what businesses are actually in the plaza. Not only can they inform what businesses reside there, but they can also promote any weekly specials, deals, or promotions for any given business.

The tenants are also loving the new Fusion LED sign. It gives them an opportunity to advertise their newest products and promote their services at their convenience.
"The tenants are really using the sign effectively with good content and because of it they are seeing an increase in customers." – Joe Nagel, Image 360 of Brighton