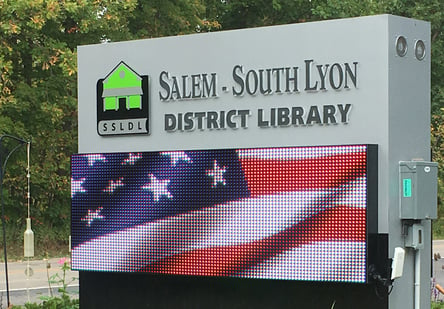 The Salem-South Lyon District Library in South Lyon, MI is focused on educating, enriching, and empowering their community. More specifically, empowering the community to utilize SSLDL's services is a goal they strive for on a daily basis. With their new Full Color LED display from Electro-Matic Visual they will be able to inform the community about the numerous events that they hold every week.

Being involved in the community by offering classes and events is just an example of what the SSLDL does to support and make a difference in their community. Now with the help of their LED display, they can now be more efficient with informing their community on what events and classes are taking place. Passing traffic will see incredible, eye catching colors that will tell them the date, time, place and custom picture to communicate their message.
In addition to their events and classes they offer, SSLDL also has a unique digital library that gives people access to a number of digital books and audio books. With their new LED display from Electro-Matic Visual and the ability to have custom content, SSLDL is able to make this unique feature known to their community and it ensures that people will take advantage of the offering.