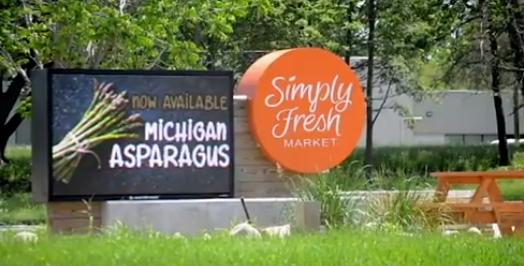 Simply Fresh Market is loaded up with healthy eats. This amazing store sells organic food and produce with excellent quality. Not only does Simply Fresh Market have tons of food and produce, but they also have their own menu of sandwiches and pizza. With such a great product and service offering Simply Fresh Market needed an LED sign to communicate their wide product and service offerings. Electro-Matic Visual and Image 360 of Brighton were able to complete the job with a 11mm Fusion LED display.
After the installation from Image 360 of Brighton and the Fusion LED display from Electro-Matic Visual, Simply Fresh Market was able to see a significant increase in traffic and uplifted sales.

"After we had our new Fusion LED sign installed we saw a 225% increase in business in the first week." – Simply Fresh Market

Simply Fresh Market takes full advantage of their full-color 11mm LED Fusion display. They use high engagement content that looks great on their display that attracts the eye of passing traffic. The use their LED sign to promote their newest goods, menu items and any sales that might be going on.

This great 11mm LED display will provide Simply Fresh Market the opportunity to continue to drive more customers through the door for years to come.