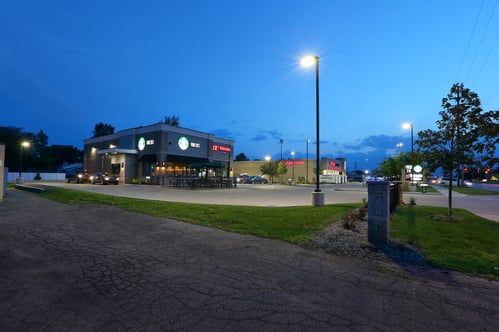 Starbucks is known for their premium coffee, espresso, lattes, but
also offer a selection of premium teas, fine pastries and other delectable treats that set them apart from all the rest. As stated on their website, the music heard in stores is specifically chosen for its artistry and appeal
. With over 13,000 Starbucks locations in the United States, Starbucks has become one of the most recognizable brands of today.
As an international company, Starbucks stores are designed with high-quality architecture. So before the grand opening of their Saginaw, Michigan location, it was important to Starbucks that both the interior and exterior of the building were on brand
—making customers feel
welcome and comfort with just one glance. What's the number one way to present a positive aesthetic? Through superior, quality lighting. LED lighting is the perfect compliment to great architecture, as it highlights the building's strongest points while giving guests a beautiful sense of solace. That's where the team at Electro-Matic Visual stepped in to provide Starbucks with the LED lighting that could match and surpass their expectations.
After Electro-Matic Visual reviewed and evaluated the project with its unique turnkey lighting and energy process, our experts engineered a solution that provided Starbucks with lighting that was more appealing to the eye, but more energy efficient and cost effective as well. To complete the job in full, the project required several different Electro-Matic Visual products, including:
(9) LED AP Pole Lights - ranging from 120W to 300W depending on location
(12) 2x4 LED Panel Lights - powered at 34W
(14) LED Wall Sconce Lights - powered at 15W
(12) LED AP Wallpack Lights – powered at 25W
The Starbucks of Saginaw, MI has been enjoying their LED lighting provided by Electro-Matic Visual since late 2017. They are amazed by how the building looks, and will be benefiting from the LED lighting for years to come.