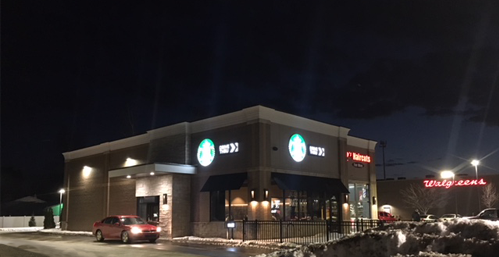 Starbucks is known for their premium coffee, espresso, lattes. With over 13,000 Starbucks locations in the United States, Starbucks has become one of the most recognizable brands today. The Starbucks located in Saginaw, MI was recently opened, but before it was ready for its grand opening, Starbucks wanted the inside and outside of their building to welcome and comfort customers. That's where Electro-Matic Visual came in to provide Starbucks with LED lighting to meet their requirements.


As you may have noticed, most Starbucks have great architecture and other high quality aesthetics. LED lighting is the perfect compliment for great architecture, as it highlights the buildings strongest points and gives customers and guests a sense of welcoming and comfort.

To meet Starbuck's goals Electro-Matic Visual engineered a solution with better lighting, better energy efficiency and more cost effective. The project included a list of several different Electro-Matic Visual products to complete the job in full including:

(9) LED AP Pole Lights - ranging from 120W to 300W depending on location
(12) 2x4 LED Panel Lights - powered at 34W
(14) LED Wall Sconce Lights - powered at 15W
(12) LED AP Wallpack Lights – powered at 25W
The Starbucks of Saginaw, MI has been enjoying and benefiting from their LED lighting, provided by Electro-Matic Visual, since late 2017. Starbucks is amazed by how the building looks and will be benefiting from the LED lighting for years to come.