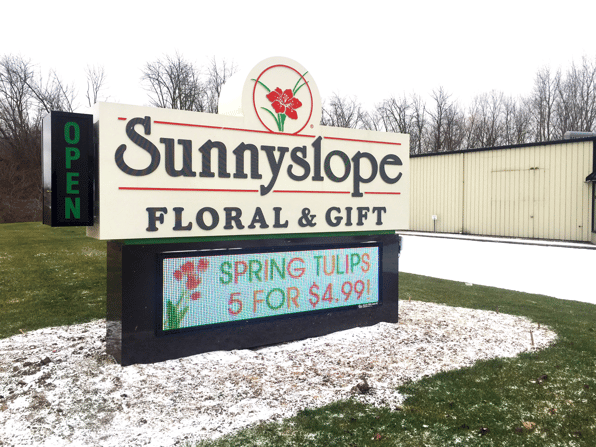 Sunnyslope Floral & Gift of Grandville, MI is a prime candidate to acquire an LED display to boost their business. Sitting just off I-196 this area sees an abundance of traffic. The great location that Sunnyslope resides on is a wonderful opportunity to make impressions of the passing traffic. With their new full-color LED sign, Sunnyslope can now advertise Valentines, Christmas, and Birthday specials to get passing traffic to stop in and make purchases.
Sunnyslope upgraded their sign from a static sign board to an LED sign board to take advantage of their location and the amount of traffic it sees. Because of their high traffic area their LED sign board will be a low cost advertising medium per impression.
Like any great looking and performing sign, it takes thought and effort to make the final product. The partnership between Signworks of Michigan, Sunnyslope and Electro-Matic Visual made this final product happen. "After months of design and client collaboration, Signworks of Michigan, Inc., located in Grand Rapids, MI, came up with a perfect solution." - Todd Frass, Signworks of Michigan, Inc.
With the amount of different offerings that Sunnyslope has to offer, they now have the freedom to advertise any flower basket, elegant gift basket, gourmet chocolate or any other Hallmark gift they want to create buzz around.
If you would like to build your own LED sign try out our custom LED sign builder at:
visual.electro-matic.com