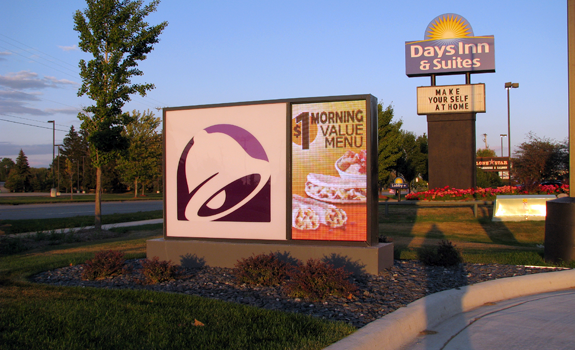 Taco Bell of Mount Pleasant, MI upgraded their signage with an 11mm Fusion LED Sign from Electro-Matic Visual. Taco Bell is constantly changing their menu, promoting value deals and adding new products. Having an LED sign promoting 24/7 and creating exposure to passing traffic increases their success with any of their product or menu offerings.

Taco Bell's new 11mm Fusion LED is extra appealing with how they integrated it with the back lit Taco Bell static sign. Typically, we see LED signs that are stacked below or above a back lit cabinet and here we see this great looking LED sign stacked next to the Taco Bell sign cabinet, creating a very simple and clean looking sign.

The Fusion LED Display from Electro-Matic Visual gives Taco Bell the opportunity to display eye grabbing, full color content to promote the $1 Morning Value Menu, $5 Crispy Chicken Quesadilla Box, online ordering options and much more, giving them a competitive advantage over dull static signs.
Creative, full color, content helps this Taco Bell stand out from sorrounding competition. Attractive, short, but to the point messages allow passing traffic to be more attracted to the LED display and better chance they stop in.