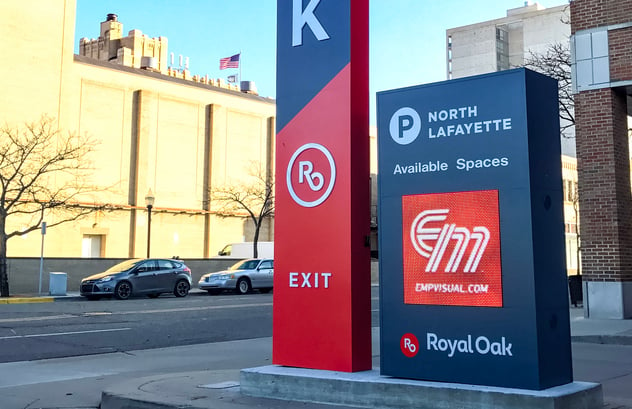 Everyone knows that the simple things in life can go a long way. Informing passing drivers the amount of room left in a parking structure can save a lot of headache for residents and people visiting a city. Royal Oak is a popular destination in the Metro Detroit area for shopping, dining, and entertainment. It is often very busy during the weekends, which makes parking hard to find. Having an up to date count on parking spots available can eliminate bad experiences and frustration so people can start their visit out on the right foot.
Customer
Greg Rassel is the city manager of Royal Oak looking to improve the community for our residents.
The Situation
The city of Royal Oak was looking for a system to let their residents and guests understand the parking spaces available in the garages within the city.
Technical Situation/Analysis
The city was adding a counting system in three of our garages in hopes to communicate the availability of parking spaces to the residents and guests. However, they needed a solution to display this information on the sides of their structures.
Objective for situation
Royal Oak needed an LED provider to work with Park Rite to communicate the available spaces in the three structures.
Solution
Electro-Matic teamed up with Johnson Sign Company, Park Rite and Royal Oak to implement the solution they desired. Park Rite and Electro-Matic were able to use their technologies in a way to count each car that came in and out of each structure and display that number on each LED Display. This made it easier for the residents and guests to choose available parking spaces.
Benefits
The benefits of using this technology allows Royal Oak guests to find parking spaces quickly. In turn, allowing them to spend more time in the downtown area whether it be shopping or dining.
Quote/Testimonial
Having these structures tied to an LED Display keeps the city's traffic flowing around the downtown area as well as making it easier for our guests and residents to find available parking.
List products and services Electro-Matic used
The completed projects around the city of Royal Oak included 10mm LED displays throughout six separate parking garages.
What they're saying
"Electro-Matic Visual and Johnson Sign Co. were great to work with and made the project very much enjoyable."
– Greg Rassel, Director at the City of Royal Oak
"It was a privilege to partner with the City of Royal Oak on their parking garage sign packages. When it came to implementing Electronic Message Centers with their car count system, we partnered with Electro-Matic Visual. The team at EM Visual did an outstanding job. Their team & engineers were able to custom program their units to allow them to work with their regular software to display custom messages & tie in with the counter system to record the number of spots open in each parking garage on the same display. Electro-Matic Visual made the whole process easy on everyone & we would highly recommend them for this type of application."
– Jim Johnson, Johnson Sign Co.

"With the implementation of the LED displays we are now able to communicate with the guest and residents of Royal Oak to make their visit or stay less problematic."
– Greg Rassel, Director of the City of Royal Oak