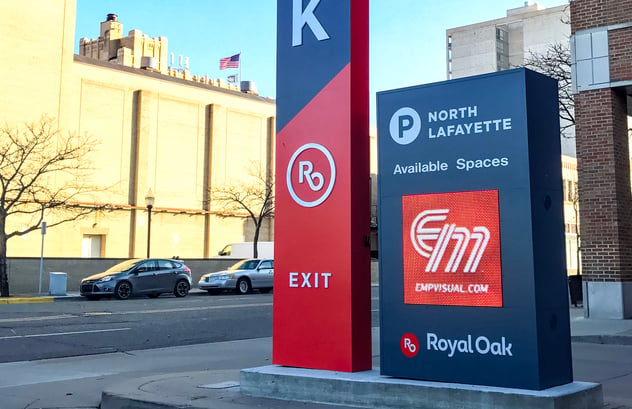 The City of Royal Oak, MI partners with Johnson Sign Co. of Jackson, MI and utililizes Farmington Hills, MI based, Electro-Matic, to complete LED display projects with several of the citys parking garages.

"Electro-Matic Visual and Johnson Sign Co. were great to work with and made the project very much enjoyable." – Greg Rassel, Director at the City of Royal Oak
"It was a privilege to partner with the City of Royal Oak on their parking garage sign packages. When it came to implementing Electronic Message Centers with their car count system, we partnered with Electro-Matic Visual. The team at EM Visual did an outstanding job. Their team & engineers were able to custom program their units to allow them to work with their regular software to display custom messages & tie in with the counter system to record the number of spots open in each parking garage on the same display. Electro-Matic Visual made the whole process easy on everyone & we would highly recommend them for this type of application." - Jim Johnson, Johnson Sign Co.
The completed projects around the city of Royal Oak included 10mm LED displays throughout six separate parking garages.
Simple things can go along way. Informing passing drivers the amount of room left in the parking structure can save the headache of the people visiting, along with the current residents. Royal Oak is a popular destination for shopping, dining, and entertainment and is often very busy during the weekends, making parking hard to find. Having an up to date count on parking spots available can eliminate a bad experience and frustration so people can start their visit out on the right foot.
"With the implementation of the LED displays we are now able to communicate with the guest and residents of Royal Oak to make their visit or stay less problematic." – Greg Rassel, Director of the City of Royal Oak
About Electro-Matic
Since 1969, Electro-Matic has helped transform American industry by supplying automation components and solutions to leading U. S. manufacturers. Today, Electro-Matic Ventures continues to leverage the value of emerging technologies by developing practical applications for industrial, commercial and retail markets. As a technology company, we help our customers turn innovation into value. As a one-hundred percent employee-owned business, our customers enjoy the benefit of a supplier partner intently focused.
If you would like to build your own LED sign try out our custom LED sign builder at:
visual.electro-matic.com