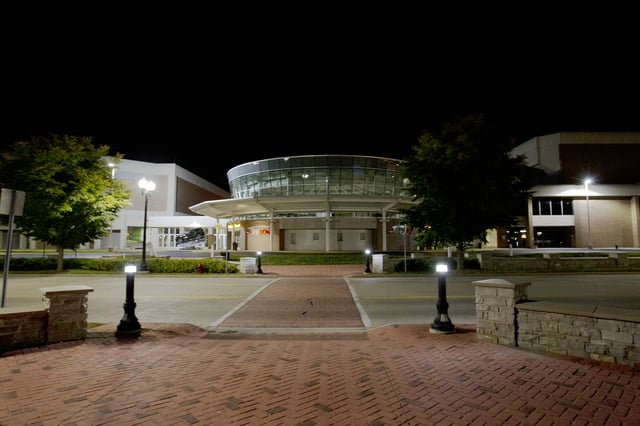 The Dow Event Center, owned by Southern Management Group (SMG), most known in the community of Saginaw, MI, where it resides. The Dow Event Center is home to the Saginaw Spirit Hockey Team of the OHL, but also host numerous concerts, theater performances, and other events. Capable of hosting and providing necessary accommodations, the Dow Event Center is a complete facility. If there was anything holding The Dow Event Center back it was their outdoor lighting.

Tyler Abbs, of The Dow Event Center, decided to work along with Electro-Matic Visual to tackle their outdoor lighting situation. Electro-Matic Visual was able to supply Abbs and SMG with the proper LED lighting for The Dow Event Center.

"Ben Riedel and Electro-Matic Visual had the knowledge of picking the correct solution for our situation, that had plenty of variables, and they were spot on" – Tyler Abbs, Facilities Manager, The Dow Event Center

Making the process simple, effective and accurate was crucial for Abbs to implement LED lighting and stating "the photometrics and the energy audit that was taken was 99% accurate from what I have seen so far and after the lights were installed they were about 20% brighter than what I was anticipating".

One of the problems they had was guests did not feel like it was a safe environment to take their children to because the lighting was poor. With the installation of LED Lighting The Dow Event Center was able to increase their lighting to achieve the goal of making guests feel welcome and safe.

"Our guests visiting The Dow have complemented the lights and how it has made them feel safe and how they feel comfortable bringing their kids with them." –Tyler Abbs, Facilities Manager, The Dow Event Center.