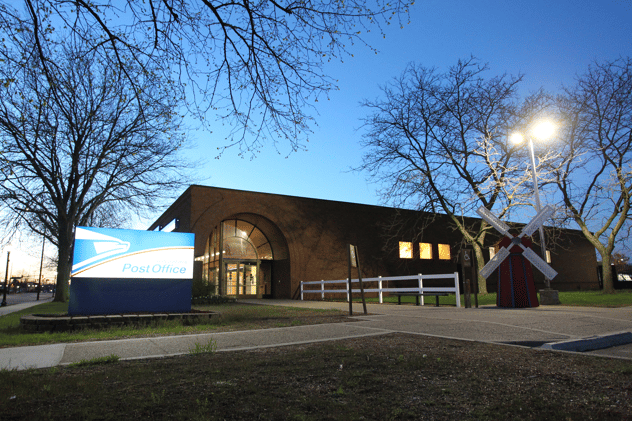 The United States Post Office in Holland, MI was seeking a more efficient way to light the outside of their facility, including their parking lot where they park their mail cars and the actual building itself. The United States Post Office needed high quality LED lighting and capable of quick and easy installation.
"The parking lot fixtures that Electro-Matic Visual provided were great to work with. They made it easy for me to first receive the fixtures and they were easy to install. These fixtures do an excellent job lighting up a space with correct lighting level and we are happy with the results." Ross Haveman- Haveman Electric
For the turnaround for this job to happen it took the expertise help of both Haveman Electric and Electro-Matic Visual. While Electro-Matic Visual provided the solution, Haveman Electric was able to receive the products and install the lights easily to quickly get The United States Post Office receiving the benefits of LED lighting.
The United States Post Office in now seeing their benefits of installing LED lighting. The LED lighting will allow the Post Office to operate at a lower cost. With increased lighting levels their parking lot shines with light to help increase visibility and security.